Hopkinton and Ashland can fuss about where the Boston Marathon began or begins, but there's no arguing the fact that Wellesley is smack in the middle of the 26.2-mile course. We own from about mile 12 to 16, traversing Rte. 135 at the start and crossing over to Rte. 16 for the rest (this zippy Motiv video from Wellesley High student and app developer extraordinaire Nicholas Peretti takes you down the course a lot faster than even the fastest runners will go).
Among the highlights of the course is the Scream Tunnel at the Wellesley College entrance, where students get loud, make custom signs and even smooch the sweaty hoards. The students used to actually form a narrow tunnel around the runners, squeezing them in, but now barriers keep the students to one side of the road.
Another highlight this year will be the thousands of special daffodils planted along the course as a living memorial  to those who were killed or injured during the 2013 race.
This year Wellesley will again be well represented on the runner front, with 113 registered runners from town when we checked. Among them, Boston College student and former Wellesley High School track captain Brennan Mullin, who got her number through Wellesley Scholarship Foundation and is in the midst of raising the boatload of money required by the Boston Athletic Association for charity runners (donate here).
Even before the Marathon begins an associated run will be heading through Wellesley. It's the second annual One Run, which raises money for the One Fund established last year following the bombings. This cross-country event is slated to head through Wellesley on April 13.
And the day after that: The annual mini-marathon at Wellesley Middle School.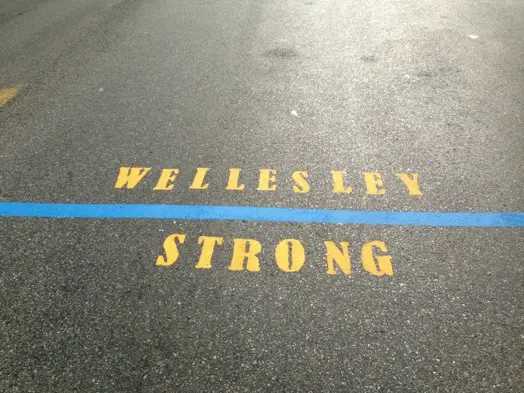 MORE: Wellesley bank robbery reported during 2012 marathon
Wellesley roots on Army Capt. Jake Murphy as he wheels across course