Even though Wellesley's most controversial piece of outdoor art — Tony Matelli's undie-clad Sleepwalker at Wellesley College — has moved on, Wellesley has lots of public sculptures, paintings and other art to admire, if you know where to look.
Colleges
Babson College (More examples here):
The Babson Globe
A little child will lead us (near Glavin Chapel)
The totem pole outside athletics center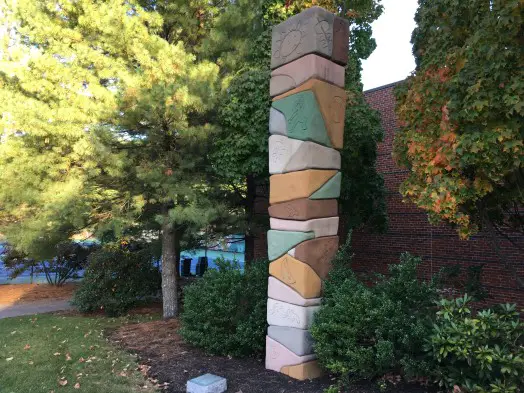 Burned at the stake memorial (outside Coleman Hall)
Ominous Ikon #6 and smaller Yaddo Study, both made of Corten steel and located behind Kriebel Hall (by Dennis Kowal)
Bird at Park Manor South
Wellesley College
Meadmore sculpture in front of Alumnae Hall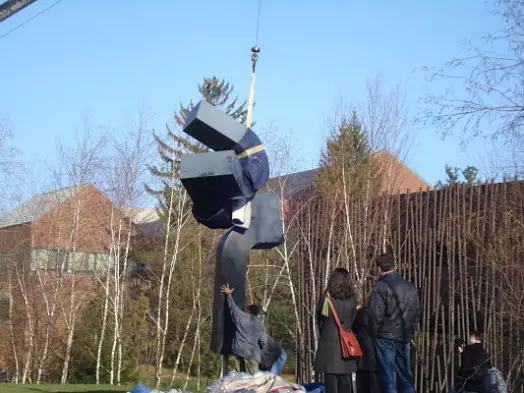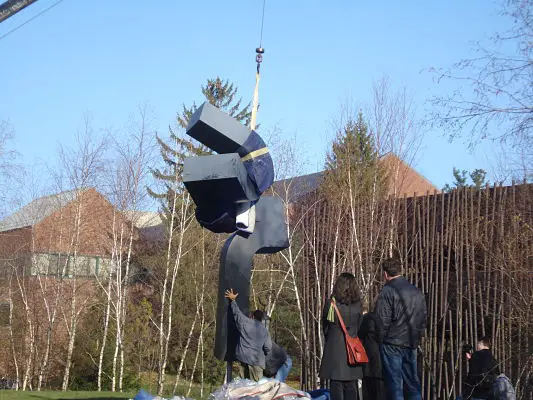 Kenneth Snelson's Mozart III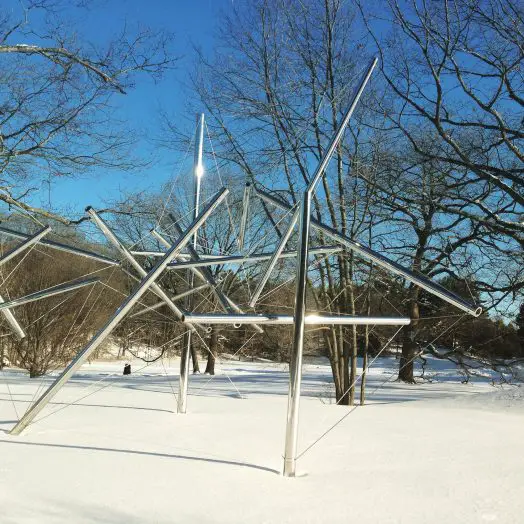 Wellesley College Clapp Library sculptures
Robert Irwin's Untitled along shore of Lake Waban near Clapp Library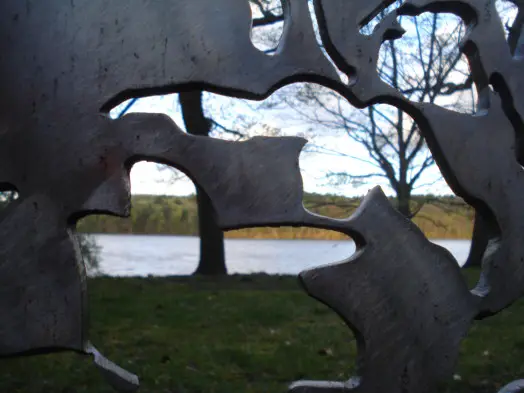 Hunnewell Topiary along trail around Lake Waban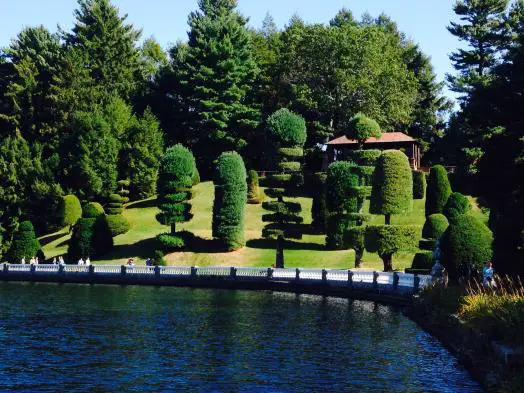 MassBay Community College
Liminal Bloom, Andy Zimmerman
Wellesley Square
Girl with the Butterfly (Merrilyn D. Marsh)  in Central Park at intersection of Central and Grove Streets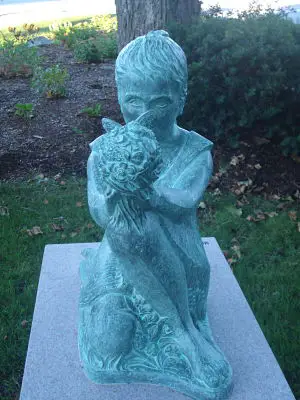 Church Square bench at Terrazza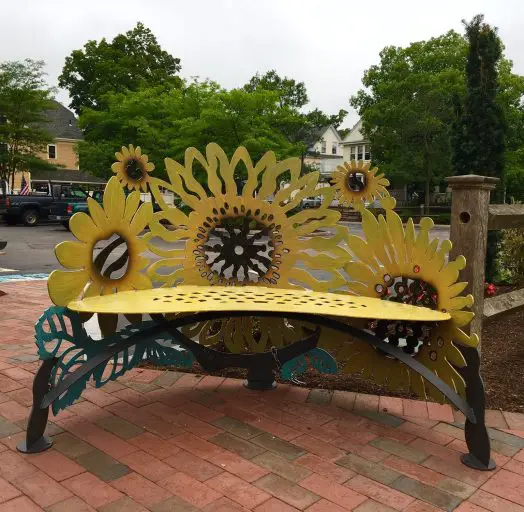 K-12 Schools
Fenway mural at Upham (by Priscilla Christie)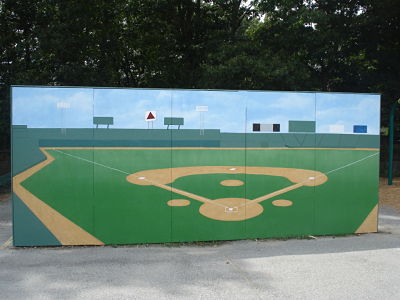 Bonus (Fenway yard on Amherst Street)
Chalk outlines at Hardy (Weston Road)
Hands wall at Bates Elementary School
Dana Hall School
Places of worship
Animal Lover (Merrilyn D. Marsh) at Cloister Garden at St. Andrew's Episcopal Church
Town buildings
Memorial to fallen officers at Wellesley Police station (dedicated in 2005)
Town Hall bell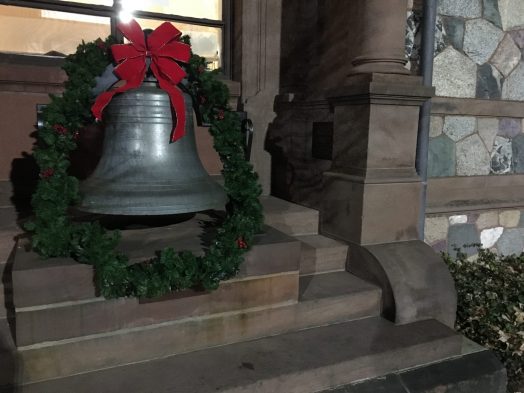 Linden Square
LINX mural
Hunnewell Field
trees on restroom building near tennis courts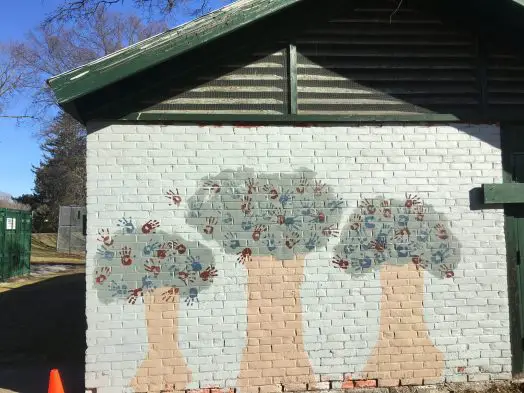 Waban arches
Graffiti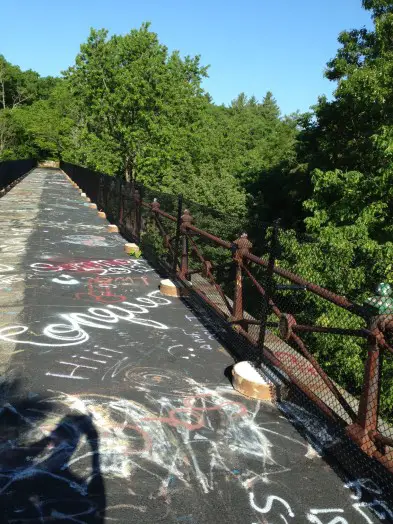 On the border
Goddesses of Horticulture (Flora, Ceres, and Pomona) at Elm Bank Reservation. Technically, Elm Bank Reservation's Mass Horticultural Society has a Wellesley address, although the land in the park is in Dover.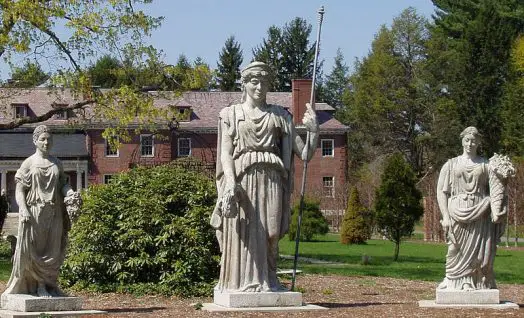 MORE: Creative spirit recycled at Wellesley Dump Art Day (2016)