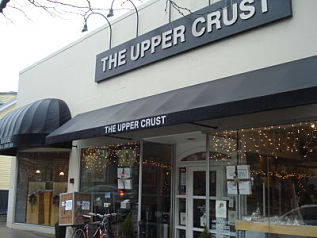 Our visits to Upper Crust over the years (the ones we've documented, anyway):
Click here for more Wellesley restaurant reviews.
Thin-crust pizza place.  Our take, February 2014:  I stopped in to try their slice of the month, a Hawaiian offering, complete with ham and pineapple.  It was a quiet Monday and the Top 40 music playing said they were less concerned with providing a cool vibe than with serving a nice slice of pizza.  The crust was crispy, just the way I like it.  I admit to fleeting thoughts of Hawaii.
I did see something unusual on the way out.  The slice of the month is corned beef and cabbage, in honor of St. Patrick's day.  I will have to work up to that one.
Our take, July 2013:  When we want New Haven-style pizza without the two-hour drive, we come here for our dose of thin crust pizza in a city atmosphere.  Recently I tried the slice of the day, a carmelized onion, fontina cheese, and portobello mushroom pizza served to my table piping hot and delicious.  In the spirit of trying new things, I attempted to chase it down with their new drink offering, ZICO coconut water, but couldn't  get beyond a few sips.   Too healthy, maybe?  The standard soda and juice offerings are also available if you have a similarly unrefined beverage palate.  With White Stripes and Wilco on the sound system while I was there, plus a couple of tunes that were so cool that myShazam app couldn't even identify them,  I figured this was about as urban wannabe as I was going to aspire to on a plain old Tuesday afternoon.  Deborah Brown