Wellesley offers a variety of eateries, from fancy to homey to chains. While some lament the lack of beer/wine served at most places in town, the silver lining is that you can bring your own booze to many restaurants in town and save yourself a bundle
Wellesley's best known and most unique restaurant is Blue Ginger,  opened by Ming and Polly Tsai in 1998. Blue Ginger, which features east-meets-west cuisine, is on the upscale side, though beyond the main dining area is a more casual lounge as well as a noodle bar. Blue Ginger has come to attract visitors from well beyond Wellesley in large part to Ming Tsai's high profile as a "celebrity chef" via his Simply Ming TV show and other activities, including those related to food allergy awareness.
Wellesley's other celebrity chef is Michael Schlow,  who opened the Italian restaurant Alta Strada in Wellesley Square in 2007, replacing Todd English's Figs. Schlow has made his mark with several Boston-based restaurants, such as Radius.
OK, enough with the celebs.
Another restaurant looking to make a name for itself  in and out of town is Milestone,  which opened in 2009 and whose proprietor has co-owned the popular Maugus Restaurant in Wellesley since 1980, features southern European cuisine.
Also standing apart is The Cottage,  an airy restaurant (with bar) with southern California cuisine that was opened in 2007 by a Wellesley native with a sister restaurant in La Jolla, Calif.  The Cottage was one of Linden Square's first anchor tenants, and another Cottage restaurant has opened in Newton.
A slew of Asian restaurants  dot the town, from sushi-and-more joint Yama to Chinese restaurants like CK' Shanghai to Thai eateries such as Lemon Thai Cuisine and Amarin (which also has a Newton location).
Other restaurants featuring ethnic delights include Italian restaurants such as Comella's,   which has a signature dish called the "Mess" and Papa Razzi,  part of a chain; Singh's Café,  an Indian restaurant on Washington St. that opened in 2009, and Café Mangal,  a Wellesley Square restaurant known for its Turkish cuisine.
Maugus,  mentioned earlier, has a Greek flair. It 's an old-timey diner that attracts a mix of clientele, including business types wheeling and dealing over breakfast.
La Riviera Gourmet on Washington St. offers breakfast, lunch and to-go dinners, plus baked goods.
One of Wellesley's densest restaurant rows is Linden Street, which in addition to previously mentioned Cottage is home to seafood restaurant The Captain's Table and Takeaway, better known as Captain Marden's.  Also on Linden Street are: Takara Japanese Restaurant;  the Linden Store, a deli; plus chains Qdoba (a good supporter of local sports teams, though wish they were more generous on portions)  and California Pizza Kitchen.
Not to be overlooked in town are more modest eateries such as the Weston Road Cafe, which offers breakfast and lunch. Another unique breakfast and lunch (and tea!) spot is Dorset Tea & Coffee,  opened in 2006 by the Khudairi sisters.
Wellesley is home to a host of other pizza joints as well. These include Wellesley North End Pizza as well as chains such as Bertucci's and Upper Crust Pizzeri. ( Wellesley's Upper Crust shut down in November due to corporate bankruptcy…but there's a chance it will re-open in 2013). Old School Pizzeria, an Italian-style pizzeria with a nostalgic decor, opened in 2011.
If you're looking for a cold treat, Wellesley has a bunch of options, including Truly Yogurt,  White Mountain Creamery and Lobelia, which had been Brigham's. J.P. Licks (Wellesley Square) and Pinkberry (Linden Square) are the newest entries, both opening in 2011.
If you're more in the mood for baked goods, options include Susu's, Quebrada,  Wellesley Bakery and others.
Then there's always Dunkin' Donuts, which has locations on Linden St. , Washington St. and Rte. 9, as well as Starbuck's, which has spots in Linden Square and Wellesley Square, plus just over the line in Newton in lower falls.
More details on these and the rest of Wellesley's eateries below:
Italian; owned by Michael Schlow, who has made name for himself with several popular Boston restaurants
92 Central St. (781) 237-6100
Thai food
27 Grove St.  (731)  239 -1350
380 Washington St.  Phone: 781-239-0990
The menu offers pizza, salad, pasta and more at this location, known as Playhouse Square, that once housed a movie theater.
East-meets-West cuisine at restaurant opened by celebrity chef Ming Tsai and wife Polly in 1998. Worth noting: Movers and shakers on food allergy front; reservations can be tough, but tell 'em you're from Wellesley and that should help; lounge and noodle bar offer alternatives to the more formal dining area.
538 Washington St.  781 283-5790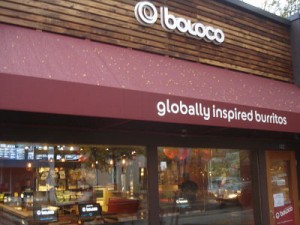 Burritos, bowls, shakes and smoothies.  During a February 2013 visit, our order of a Memphis BBQ burrito and a Cookie Monster smoothie was ready in three minutes.  The coleslaw in the burrito gave it a  nice crunch, and the skim milk and non-fat yogurt in the smoothie probably made up in virtue for the chocolate chip cookies in there.
102 Central St. 781-489-6071
Bagels, sandwiches, soups. Worth noting: Every so often they surprise you with special bagels tied to things like big Patriots football games.
97 Central St. 781 235-2358
Mediterranean and American cuisine with a heavy Turkish influence. Breakfast, lunch, dinner. Worth noting: Closed Sundays and no dinner on Monday/Tuesday. BYOB.
555 Washington St.  (781) 235-5322
Pizza, plus salads, tacos and more
183 Linden St.  (781) 416-3690
Captain Marden's/Captain's Table & TakeAway
Seafood restaurant and store. Worth noting: Brunch only on Sundays.
279 Linden St.    (781) 235-3737
China Sky (Closed in late 2012)
11 Forest St.  (781) 431-2388
Chinese and Japanese food; features a full bar.
Chinese food. Full bar service.
15 Washington St.  (781) 237-7500
Our take: Ate there on New Year's Eve 2010. Appetizers of chicken wings, chicken fingers and peking ravioli were all tasty and hot (temperature-wise). Entrees were OK (Shrimp fried rice didnt have tastiest shrimp). Service was excellent, and the restaurant itself is bright and clean and lively. Watch out for sitting in booths facing the front door on a winter night though — chilly. (BB)
257 Washington St.  (781) 235-8255
Italian; signature dishes are called "Messes" and feature a mix of veggies, pasta and more. Comella's has several other locations in surrounding communities, including Newton and Needham.
288 Washington St.  (781) 235-7300
Features food with Southern California flair. Full bar service. Has another location in Chestnut Hill.
190 Linden St.  (781) 239-1100
Deluxe Pizza
1 Forest St. (781) 235-6811
This place has a Greek flavor (pictures of Greece on the walls), has about 20 seats, features Tiffany-style lamps and an assortment of foods beyond pizza: salads, calzones, vegetables, etc. Be warned: No credit cards accepted.
868 Worcester St.  (781) 235-6800
Tea, coffee, breakfast/lunch/snacks.
352 Washington St.  (781) 239-8988
Dunkin' Donuts
951 Worcester Street (Rte. 9) / 781-235-9815)
978 Worcester St. (Rte. 9 east) 781 237 1437
12 Washington St. / 781-431-7321
277 Linden St. (shown)
Ready-to-assemble, healthy, homemade meals to go.
36 Washington St., Suite 2  781-235-6325
Jin's Fine Asian Cuisine & Sushi Bar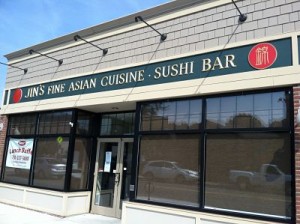 11 Washington St.  (781) 237-5888
Ice cream, coffee, more.
63 Central St.  (781) 416-1799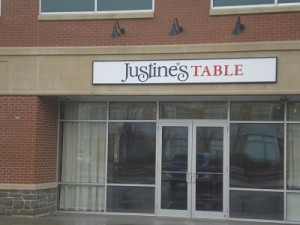 All-American dining with dishes representing cuisines from across the country.  Features live piano music and a supper club. BYOB, too. Opened in November, 2012.
978 Worcester St., (Rte. 9 East) (781) 772-1488
A French Café where you can enjoy an assortment of homemade pastries for breakfast and a largye selection of fresh salads, quiches, sandwiches and daily specials for lunch.
390 Washington St.  (781) 235-1885
555 Washington St.  (781) 237-6995
A deli. Our take: Fun family owned deli with a couple dozen stools, a ton of variety on the menu (from sandwitches — cheesesteak is yummy — to smoothies to soup) and can be a real madhouse at lunch, though the staff does a great job juggling it all. Mix of local and assorted decorations, such as university pennants. (Dec. 2010)
162 Linden St.  (781) 235-9837
Lobelia
Ice cream, sandwiches, more.
268 Washington St.  (781) 235-2323
12C Washington St.  (781) 237-3850
Classic breakfast and lunch diner, with Greek flair.
300 Washington St.  (781) 235-9647
Southern European cooking; breakfast, lunch, dinner
13 Central St.  (781) 446-6950
Italian-style pizza, plus; nostalgic feel via tons of memorabilia.
552 Washington St.  (781) 235-8300
Nick's Pizza House
263 Washington St.  (781) 235-9494
Italian food, including pizza.
16 Washington St.  (781) 235-4747
9 Central St. (781) 235-0018
Breakfast, lunch & dinner, plus catering. Cash/checks, ATM inside.
57 Washington St.  (781) 489-3205
Tangy frozen yogurt.
180 Linden St.  (781) 239-3400
185 Linden St. (781) 235-3390
Baked goods, including muffins and breads.
272 Washington St.  (781) 237-2111
Fine Indian cuisine.
312 Washington St. (781) 235-1666
68A Central St. (781) 235-2390
101 Linden St. (781) 237-5282
Susu Bakery Boutique
Baked goods, including muffins and breads; summer cupcake camp for kids.
575 Washington St. (781) 237-7977
Takara Japanese Restaurant, 151 Linden St.  781-235-9888
Italian specialties, including lunch and breakfast offerings.
570 Washington St. (781) 431-2250
35 Grove St. (781) 239-1356
99 Central St. (781) 235-5011
This thin-crust pizza place, which also offers calzones, salads, and lasagna, is possibly the most dramatic restaurant in town.
Baked goods, soups, sandwiches.
542 Washington St. (781) 235-1171
Wellesley College eateries
Collins Cafe (across from Davis Museum)
Campus Center Emporium on 2 (in Wang Center)
Claflin Bakery (Claflin Hall)
Leaky Beaker (Science Building)
Cafe Hoop/Punch's Alley bar (Wang Center)
Wellesley North End Pizza
7 Washington St. (Rte. 16)  (781) 237-3388 or 3389
Breakfast, lunch, dinner
Our take (Jan. 2011): Our first visit was a good one, with our family enjoying a broccoli & chicken calzone served hot and fresh, buffalo chicken wings and a garlic and cheese pizza. The staff was friendly and accommodating. We sat at one of the 4 tables near the front door, so was a bit chilly. Decor is pretty modest, mainly consisting of posters of food. There's a flat screen TV, though it wasnt on when we were there. Prices are reasonable.
Weston Road Cafe
Breakfast, lunch, dinner with salads, subs, etc. Motto is: A place where you can meet anybody.
336 Weston Rd.  (781) 235-1116
White Mountain Creamery
552 Washington St. (781) 239-0676
Our take: Wellesley's anti-Pinkberry treat — The White Mountain
Whole Foods
442 Washington St.  (781) 235-7262
The 26,000 square foot grocery store is big with those looking for natural and organic foods.  Its prepared foods have gotten our attention lately,  however, leading us to make space for the supermarket on our Where to Eat page.  Its one of the few places in town where you can belly up to the bar as long as what you're expecting isn't an adult beverage but salad or hot and cold prepared foods.  You can also get sandwiches and pizza, and for dessert, gelato or kefir.   Seating in the community room is ample, but if a pesky community group is hogging it, there is additional seating near the check-out area.  There is outdoor seating in the summer.
We tried out the gelato in March 2013.  The mango gelato was the sunshine in early spring we'd been looking for, and the chocolate gelato was dense and smooth.  The almond coconut suffered in comparison to my gold standard of that taste family, the Hershey's Almond Joy candy bar.  But if Whole Foods is going to go leaving out the corn syrup and the artificial flavors, they're going to have to face the criticism of those of us with pedestrian tastes.  - Deborah Brown
The Wok
180 Worcester St. (Rte. 9) (781) 235-0238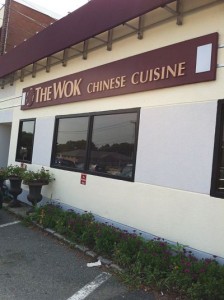 Chinese food.
Includes sushi bar. BYOB.
245 Washington St.  (781) 431-8886