Wellesley offers a variety of eateries, from fancy to homey to chains. While some lament the lack of beer/wine served at most places in town, the silver lining is that you can bring your own booze to many restaurants in town and save yourself a bundle
Wellesley's best known and most unique restaurant is Blue Ginger,  opened by Ming and Polly Tsai in 1998. Blue Ginger, which features east-meets-west cuisine, is on the upscale side, though beyond the main dining area is a more casual lounge as well as a noodle bar. Blue Ginger has come to attract visitors from well beyond Wellesley in large part to Ming Tsai's high profile as a "celebrity chef" via his Simply Ming TV show and other activities, including those related to food allergy awareness.
Wellesley's other celebrity chef is Michael Schlow,  who opened the Italian restaurant Alta Strada in Wellesley Square in 2007, replacing Todd English's Figs. Schlow has made his mark with several Boston-based restaurants, such as Radius.
OK, enough with the celebs.
Another restaurant looking to make a name for itself  in and out of town is Milestone,  which opened in 2009 and whose proprietor has co-owned the popular Maugus Restaurant in Wellesley since 1980, features southern European cuisine.
Also standing apart is The Cottage,  an airy restaurant (with bar) with southern California cuisine that was opened in 2007 by a Wellesley native with a sister restaurant in La Jolla, Calif.  The Cottage was one of Linden Square's first anchor tenants, and another Cottage restaurant has opened in Newton.
A slew of Asian restaurants  dot the town, from sushi-and-more joint Yama to Chinese restaurants like CK' Shanghai to Thai eateries such as Lemon Thai Cuisine and Amarin (which also has a Newton location).
Other restaurants featuring ethnic delights include Italian restaurants such as Comella's,   which has a signature dish called the "Mess" and Papa Razzi,  part of a chain; Singh's Café,  an Indian restaurant on Washington St. that opened in 2009, and Café Mangal,  a Wellesley Square restaurant known for its Turkish cuisine.
Maugus,  mentioned earlier, has a Greek flair. It 's an old-timey diner that attracts a mix of clientele, including business types wheeling and dealing over breakfast.
La Riviera Gourmet on Washington St. offers breakfast, lunch and to-go dinners, plus baked goods.
One of Wellesley's densest restaurant rows is Linden Street, which in addition to previously mentioned Cottage is home to seafood restaurant The Captain's Table and Takeaway, better known as Captain Marden's.  Also on Linden Street are: Takara Japanese Restaurant;  the Linden Store, a deli; plus chains Qdoba (a good supporter of local sports teams, though wish they were more generous on portions)  and California Pizza Kitchen.
Not to be overlooked in town are more modest eateries such as the Weston Road Cafe, which offers breakfast and lunch. Another unique breakfast and lunch (and tea!) spot is Dorset Tea & Coffee,  opened in 2006 by the Khudairi sisters.
Wellesley is home to a host of other pizza joints as well. These include Wellesley North End Pizza and Old School Pizzeria, an Italian-style pizzeria with a nostalgic decor.  Also in town are chains such as Bertucci's and Upper Crust Pizzeria.
If you're looking for a cold treat, Wellesley has a bunch of options, including Truly Yogurt, and  White Mountain Creamery,  J.P. Licks (Wellesley Square), and Pinkberry (Linden Square).  The newest option is Baskin-Robbins on Washington Street, which opened in July 2013.
If you're more in the mood for baked goods, options include Susu, Quebrada,  Wellesley Bakery and others.
Then there's always Dunkin' Donuts, which has locations on Linden St. , Washington St. and Rte. 9, as well as Starbuck's, which has spots in Linden Square and Wellesley Square, plus just over the line in Newton in lower falls.
More details on these and the rest of Wellesley's eateries below:
Alta Strada  92 Central St.  781-237-6100
Italian; owned by Michael Schlow, who has made name for himself with several popular Boston restaurants.
Our take, July 2013:  This is the type of restaurant where you sit down and have a lovely lunch, tended to by knowledgeable but unobtrusive wait staff.  The clean, open space allows you to see and be seen at either tables or at a bar (where, for now anyway, you must order food if you want to consume alcohol).  There was plenty of summer on the menu when we were there, and the sweet corn with smokey bacon ($6 on the antipasti menu) was fresh and delicious.  The corn is served off the cob, mixed with the bacon and served in a small bowl in a portion size that is plenty big enough for two.  The shrimp, grilled vegetable, and gigante bean salad with herb vinaigrette ($15) was also generously sized.  I wasn't so sure about the gigante beans, though.  I expected a healthy dose of them in my salad, figuring they would give my meal an extra boost of protein, in addition to that from the shrimp, but there were only a few beans scattered about. Overall, however, it was a perfectly seasoned salad and I was glad I didn't pull a Meg Ryan in When Harry Met Sally and insist on getting my dressing on the side.
My dining companion had the fingerling potato, spring onion, and taleggio pizza ($15).  Taleggio cheese, as I learned, is a semi-soft Italian cheese with a fruity tang.  It makes a nice pizza, and between the two of us we polished it off.
The lemonade ($3.50) was real, not the Country Time powdered mix I've been sustaining myself with all summer, and the ice water kept coming on this hot summer day.  It was a pricey lunch, sure, but it was a serene, relaxing, and healthy lunch.  We all need those, as often as we can make the time to get them.  Deborah Brown
Amarin of Thailand  27 Grove St.  (731)  239 -1350
Thai food
Bertucci's Italian
380 Washington St.  Phone: 781-239-0990
The menu offers pizza, salad, pasta and more at this location, known as Playhouse Square, that once housed a movie theater.
Blue Ginger  583 Washington St.  781 283-5790
East-meets-West cuisine at restaurant opened by celebrity chef Ming Tsai and wife Polly in 1998. Worth noting: Movers and shakers on food allergy front; reservations can be tough, but tell 'em you're from Wellesley and that should help; lounge and noodle bar offer alternatives to the more formal dining area.
Boloco  102 Central St. 781-489-6071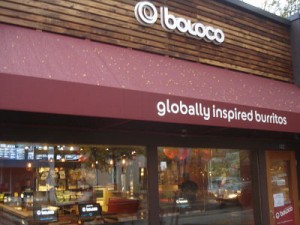 Burritos, bowls, shakes and smoothies.  Our take: During a February 2013 visit, our order of a Memphis BBQ burrito and a Cookie Monster smoothie was ready in three minutes.  The coleslaw in the burrito gave it a  nice crunch, and the skim milk and non-fat yogurt in the smoothie probably made up in virtue for the chocolate chip cookies in there.  Deborah Brown
Bruegger's Bagels  97 Central St. 781 235-2358
Bagels, sandwiches, soups. Worth noting: Every so often they surprise you with special bagels tied to things like big Patriots football games.
Cafe Mangal  555 Washington St.  (781) 235-5322
Mediterranean and American cuisine with a heavy Turkish influence. Breakfast, lunch, dinner. Worth noting: Closed Sundays and no dinner on Monday/Tuesday. BYOB.
California Pizza Kitchen  183 Linden St.  (781) 416-3690
Pizza, plus salads, tacos and more
Captain Marden's/Captain's Table & TakeAway  279 Linden St.    (781) 235-3737
Seafood restaurant and store. Worth noting: Brunch only on Sundays.
CK' Shanghai  15 Washington St.  (781) 237-7500
Chinese food. Full bar service.  Our take: Ate there on New Year's Eve 2010. Appetizers of chicken wings, chicken fingers and peking ravioli were all tasty and hot (temperature-wise). Entrees were OK (Shrimp fried rice didnt have tastiest shrimp). Service was excellent, and the restaurant itself is bright and clean and lively. Watch out for sitting in booths facing the front door on a winter night though — chilly. (BB)
Coconut Thai Cafe, 11 Forest St.  (781) 431-2388
Comella's, 288 Washington St.  (781) 235-7300
Italian; signature dishes are called "Messes" and feature a mix of veggies, pasta and more. Comella's has several other locations in surrounding communities, including Newton and Needham.
The Cottage, 190 Linden St.  (781) 239-1100
Features food with Southern California flair. Full bar service. Has another location in Chestnut Hill.
Deluxe Pizza, 1 Forest St. (781) 235-6811
This place has a Greek flavor (pictures of Greece on the walls), has about 20 seats, features Tiffany-style lamps and an assortment of foods beyond pizza: salads, calzones, vegetables, etc. Be warned: No credit cards accepted.
868 Worcester St.  (781) 235-6800
Dorset Cafe, 352 Washington St.  (781) 239-8988
Tea, coffee, breakfast/lunch/snacks.
951 Worcester Street (Rte. 9) / 781-235-9815)
978 Worcester St. (Rte. 9 east) 781 237 1437
12 Washington St. / 781-431-7321
277 Linden St. (shown)
Healthy Habits Kitchen, 36 Washington St., Suite 2  781-235-6325
Ready-to-assemble, healthy, homemade meals to go.
Jin's Fine Asian Cuisine & Sushi Bar, 11 Washington St.  (781) 237-5888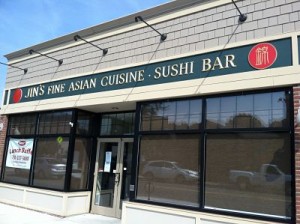 J.P. Licks  63 Central St.  (781) 416-1799
Ice cream, yogurt, coffee.
Our take, July 2013:  We've stopped by recreationally many times since their 2010 opening, but  haven't taken the time to review the homemade ice cream parlor.  Now that they've settled in,  we wanted see how J.P. Licks is getting along.  I knew my companions would mock me, and they did, but the kiddy size cup ($3.09) is what I ordered.  That's really all the Oreo Cake Batter ice cream richness I require after dinner.  Besides, in the interest of research I naturally needed to try a taste of the Brownie Brownie Batter ($4.69 for two scoops).  It was a chocolate-lover's dream, densely packed with all it promised, and likely impossible to get out of a white t-shirt.  The Peach (three scoops for $5.39) was good, but I prefer bigger, firmer chunks of fresh peach in a purer vanilla base.  They marinate their peaches in brown sugar giving it a more fall-is-coming look and flavor rather than the summer-is-here attitude I need in July.
The seating inside, the bench outside, and the fun fake grass on the walls all encourage customers to graze awhile and indeed, we did.  Deborah Brown
La Riviera Gourmet,  390 Washington St.  (781) 235-1885
A French Café where you can enjoy an assortment of homemade pastries for breakfast and a large selection of fresh salads, quiches, sandwiches and daily specials for lunch.
Our take, July 2013:  If you are going to call yourself a French cafe you'd better have a nice summer outdoor seating area, and La Riveria does. There is room on the sidewalk for about 15, and each table has an umbrella in case the shade trees lining that section of Washington St. aren't doing the job.  There is plenty of room to eat inside as well.
I tried the roasted vegetable panini with a side of  coleslaw ($8.25).  The panini really was very well done, toasted nicely with plenty of summer vegetables and just enough mozzarella cheese to hold it all together.  The coleslaw was crisp and fresh, heavy on the poppy seeds, light on the shredded carrots.
My only complaint is that they didn't have any cookies for dessert.  I really need a bit of sugar after lunch, emphasis on a bit.  They had some beautiful pastries and other desserts, but they looked like they deserved to be shared.
Looking forward to my next visit.  I would like to press on and try each panini choice.  Deborah Brown
Lemon Thai Cuisine  555 Washington St.  (781) 237-6995
The Linden Store, 162 Linden St.  (781) 235-9837
A deli. Our take: Fun family owned deli with a couple dozen stools, a ton of variety on the menu (from sandwiches — cheesesteak is yummy — to smoothies to soup) and can be a real madhouse at lunch, though the staff does a great job juggling it all. Mix of local and assorted decorations, such as university pennants. (Dec. 2010)
The owners have confirmed that they are expanding the 1,380 square foot restaurant into the now-empty space next door, increasing their business to 2,400 square feet. In addition, there will be an increase in seating from 21 stools to 31 stools, two of which will be handicapped accessible.  The renovation is scheduled to be completed by late summer 2014.
The Local, 11 Forest St. (781) 694-1210
Wellesley's Frank Santo, and Tom Wynn have opened their latest restaurant at the location of the former China Sky.  With additional locations in  Wayland and Newton, the gastropub offers food and drink in a warm, sophisticated interior.
Mark's Pizza & Subs 12C Washington St. (781) 237-3850
Maugus Restaurant, 300 Washington St.  (781) 235-9647
Classic breakfast and lunch diner, with Greek flair.
Milestone Restaurant, 13 Central St.  (781) 446-6950
Southern European cooking; breakfast, lunch, dinner
Old School Pizzeria, 552 Washington St.  (781) 235-8300
Our take, February 2014: Their pizza crust is neither thick nor crispy-thin, and they don't skimp on the mozzarella or the slice size, if you're not ordering a whole pizza.  My bowl of minestrone, however was a disappointing bland collection of mushy pasta, a few cannellini beans, and some canned tomatoes floating about in an unseasoned broth.  That's what I get for ordering soup at a pizza parlor, I suppose.
Tons of nostalgic memorabilia and oldies tunes on the sound system keep the atmosphere lively.  You can't leave here downhearted after dining to classics like "Help Me Rhonda" and "Be My Baby."
Nick's Pizza House, 263 Washington St.  (781) 235-9494
Papa Razzi, 16 Washington St.  (781) 235-4747
Italian food, including pizza.
Peet's Coffee & Tea, 9 Central St. (781) 235-0018
Peter's Pizza, 57 Washington St.  (781) 489-3205
Breakfast, lunch & dinner, plus catering. Cash/checks, ATM inside.
Pinkberry, 180 Linden St.  (781) 239-3400
Tangy frozen yogurt.
Qdoba Mexican Grill, 185 Linden St. (781) 235-339
Quebrada Baking Co., 272 Washington St.  (781) 237-2111
Baked goods, including muffins and breads.
Singh's Cafe, 312 Washington St. (781) 235-1666
Fine Indian cuisine.
68A Central St. (781) 235-2390
101 Linden St. (781) 237-5282
Susu Bakery Boutique  575 Washington St. (781) 237-7977
Lunch, baked goods, including muffins and breads; summer cupcake camp for kids.
Our take:  A lovely and soothing lunch spot that serves up soup, salads, and sandwiches that are a cut above the company.  Just under $15 got me a cup of soup de jour, a half sandwich, and a 16 ounce glass of lemonade.  The shrimp, corn, and potato bisque  was creamy and delicious with plenty of shrimp, potatoes that held their shape and texture, and just a small kick to it.  They played it straight with the tuna melt.  No celery or sprouts mixed in, just tuna held together with some mayo, topped with cheese, and grilled up on good-quality bread and served to your table on white china.
And if you're in the market for Hermes ties or a purse, they've got some of those, too.  Deborah Brown
Takara Japanese Restaurant, 151 Linden St.  781-235-9888
Tutto Italiano. 570 Washington St. (781) 431-2250
Italian specialties, including lunch and breakfast offerings.
Truly Yogurt, 35 Grove St. (781) 239-1356
Upper Crust Pizzeria  99 Central St. (781) 235-5011
Thin-crust pizza place.  Our take, February 2014:  I stopped in to try their slice of the month, a Hawaiian offering, complete with ham and pineapple.  It was a quiet Monday and the Top 40 music playing said they were less concerned with providing a cool vibe than with serving a nice slice of pizza.  The crust was crispy, just the way I like it.  I admit to fleeting thoughts of Hawaii.
I did see something unusual on the way out.  The slice of the month is corned beef and cabbage, in honor of St. Patrick's day.  I will have to work up to that one.
Our take, July 2013:  When we want New Haven-style pizza without the two-hour drive, we come here for our dose of thin crust pizza in a city atmosphere.  Recently I tried the slice of the day, a carmelized onion, fontina cheese, and portobello mushroom pizza served to my table piping hot and delicious.  In the spirit of trying new things, I attempted to chase it down with their new drink offering, ZICO coconut water, but couldn't  get beyond a few sips.   Too healthy, maybe?  The standard soda and juice offerings are also available if you have a similarly unrefined beverage palate.  With White Stripes and Wilco on the sound system while I was there, plus a couple of tunes that were so cool that my Shazam app couldn't even identify them,  I figured this was about as urban wannabe as I was going to aspire to on a plain old Tuesday afternoon.  Deborah Brown
Wellesley Bakery & Cafe  542 Washington St. (781) 235-1171
Baked goods, soups, sandwiches.  Our take, July 2013:  Located on a great corner for people-watching from the window seat, I ordered a half chicken tarragon sandwich and a cup of gazpacho ($6.50), chips, lemonade, and a cookie ($12 total) to eat in from exactly that perch.  The service was quick, but oops!  I ordered it for here, but it came out all wrapped up and ready to go.  Back to the kitchen went my lunch to be disrobed and slapped onto a paper plate.  Back to me, but oops!  I ordered it on French bread and it came to me on multi-grain.  I decided multi-grain would do, and brought my meal to the available window stool.
After all that, I did enjoy my sandwich and could really taste the tarragon in the chicken salad.   The gazpacho was the kind made with a thin tomato broth base with chunks of veggies added to it as opposed to the thicker-type offering that has gone through a blender.  It had a fresh taste and a nice kick to it.  My cakey oatmeal raisin cookie was made with golden raisins and was moist.
The 5 tables and window seat area provides seating for about 15.  Parking is metered along the street, but if you can't score one of the choice spots in front,  take a right down Cameron St., manage to get yourself pointed in the other direction (I know, complicated), and park along the Hunnewell school playground.   Deborah Brown
Wellesley College eateries
Collins Cafe (across from Davis Museum)
Campus Center Emporium on 2 (in Wang Center)
Claflin Bakery (Claflin Hall)
Leaky Beaker (Science Building)
Cafe Hoop (Wang Center)
Punch's Alley Bar (Wang Center)
Wellesley North End Pizza
7 Washington St. (Rte. 16)  (781) 237-3388 or 3389
Breakfast, lunch, dinner
Our take, Jan. 2011: Our first visit was a good one, with our family enjoying a broccoli & chicken calzone served hot and fresh, buffalo chicken wings and a garlic and cheese pizza. The staff was friendly and accommodating. We sat at one of the 4 tables near the front door, so was a bit chilly. Decor is pretty modest, mainly consisting of posters of food. There's a flat screen TV, though it wasn't on when we were there. Prices are reasonable.
Weston Road Cafe  336 Weston Rd.  (781) 235-1116
Breakfast, lunch, dinner with salads, subs, etc. Motto is: A place where you can meet anybody.
White Mountain Creamery
552 Washington St. (781) 239-0676
Our take: Wellesley's anti-Pinkberry treat — The White Mountain
Whole Foods  442 Washington St.  (781) 235-7262
The 26,000 square foot grocery store is big with those looking for natural and organic foods.  Its prepared foods have gotten our attention lately,  however, leading us to make space for the supermarket on our Where to Eat page.  It's one of the few places in town where you can belly up to the bar as long as what you're expecting isn't an adult beverage but salad or hot and cold prepared foods.  You can also get sandwiches and pizza, and for dessert, gelato or kefir.   Seating in the community room is ample, but if a pesky community group is hogging it, there is additional seating near the check-out area.  There is outdoor seating in the summer.
Most recently, we gave it a shot for breakfast.  It's a grab-and-go type of experience for most people.  The warming trays have breakfast sandwiches wrapped and ready, and the coffee bar employees are there to tend to your caffeine needs.  We tried the egg and cheese on a croissant and grabbed a Stonyfield smoothie from the refrigerated wall rack.  The breakfast sandwich was warm and obviously hadn't been sitting there forever, and smoothies are always good.   The news was tuned in on the flat screen in the community room for those who cared to linger.
On a March 2013 visit, we tried out the gelato.  The mango gelato was the sunshine in early spring we'd been looking for, and the chocolate gelato was dense and smooth.  The almond coconut suffered in comparison to my gold standard of that taste family, the Hershey's Almond Joy candy bar.  But if Whole Foods is going to go leaving out the corn syrup and the artificial flavors, they're going to have to face the criticism of those of us with pedestrian tastes.  - Deborah Brown
The Wok
180 Worcester St. (Rte. 9) (781) 235-0238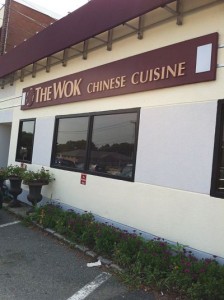 Chinese food.
Yama Japanese Restaurant  245 Washington St.  (781) 431-8886
Includes sushi bar. BYOB.