Most recent review:
Shanghai Tokyo  1/2015
54 East Central St.
Natick, MA 01760
508-651-0818
In a nondescript strip mall (is there any other kind?) resides sushi greatness. If you are looking for super-fresh sashimi or maki that's made with attention to the rice as well as the fish filling, and some nice house specialties, all at a decent price, give Shanghai Tokyo a try. Located about 2.5 miles from Wellesley Square, a straight shot down route 135, consider it your alternative to Yama when that standby is too crowded but you still need a casual Asian restaurant for lunch or dinner.
Last time we went, I ordered the hamachi sashimi ($7.50 for 3 pieces), an order of salmon maki ($4.95), and an order of tekka maki ($5.25), all fresh and delicious, as usual. As I sat sipping my Sapporo, a man picking up his take-out order greeted the sushi chef. "You made my order, right?" he asked, holding up his bag. "Excellent, I know it will be good, like always."
My companions ordered the chicken fingers ($6.25), which they were satisfied with, but really, it takes a certain palate to get excited about them. It all looked like a lot of deep-fried dough to me, the type of dish that only adolescents can get away with eating without later repentance.
Steamed ravioli ($5.95) made it to the table, too, hot and with a couple of good sauces on the side, and the chicken wings ($7.50) were crisp and plentiful.
I come here often with my office, and the staff always sit us in the same, commodious booth and hustles us in and out with appreciated efficiency. When I come with my family for dinner, however, the hustle that I seek during a work day lunch is less welcome. The waitress was on a serious check-grab quest, trying to snatch it away while we were still savoring our complimentary canned pineapple chunks and copy-editing our fortune cookie messages. Give yourself some peace and quite for at least a few hours, my fortune advised.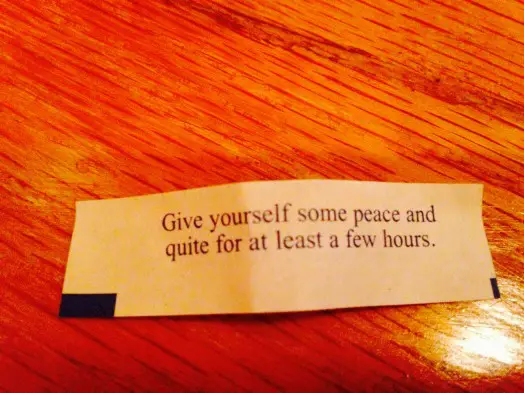 Indeed, I will. Quite.
– Deborah Brown
Chipotle Mexican Grill  7/2013
1 Worcester Rd. (Route 9)
Framingham, MA  01701
508-879-0823
If you're on Route 9 in Framingham running errands and  crave a quick Mexican lunch or dinner, try Chipotle Mexican Grill.  Located in Shopper's World (that's the one where Office Depot, TJ Maxx, and DSW Shoes are located), it's a place where the  Route 9 crowd converges, from parents with toddlers to area workers looking for a quick bite.  The concrete floors and hard, modern materials within mirror the concrete jungle outside, and loud but tuneful enough music keeps the vibe energetic and casual.    I've been there three times in the past several weeks  during the lunch rush and was greeted with a line that stretched to the door on each occasion.  The staff moves it along, however, and some customers actually seemed dismayed that they didn't get a chance to deal with all their texts and emails before it was suddenly their turn.
My favorite meal lately is a salad made up of a chopped romaine lettuce base topped with black beans, chicken, mild salsa, cheese, and guacamole.  The menu informed me that the calorie count for my meal was 170 -780, so I was either really virtuous or a dieting train wreck.  Last time, I made it through 3/4 of my meal, so I either consumed about 120 calories (great, I'll be starving by 4:00 p.m.)  or 600 calories (disaster, why did I agree to the guacamole?).  If a salad isn't what you're after, the menu also includes burritos and tacos, each with equally inscrutable calorie counts.
Chipotle seems serious about bringing everybody to the table.  They are zealous about accommodating people with dietary restrictions.  The menu says, "We use no peanuts, tree nuts, or any other kind of nuts in our food." If you are gluten-free, they are there to serve you.  If you are dairy-free, they point out that only their cheese and sour cream contain dairy.  Vegetarians can do well here, and even vegans have a fighting chance.
The view from my window-seat perch was nothing special, just that of my car parked under the blazing hot sun along with every other car carefully lined up in orderly rows, but there is a rather nice outside seating area, where I swear I felt a breeze as I left.  Hey, it's no McDonalds's I thought as I left, patting myself on the back. Then I remembered.  Doesn't McDonald's put out a tasty lobster roll this time of year?  Maybe I'm not so high and mighty after all.  Just might have to go see if I'm perhaps lovin' it.  DB
Kugel's Deli  7/2013
855 Worcester Road (Route 9)
Framingham, MA  01701
Kugel's Deli, located on Route 9 westbound  in Trolley Square, bills itself as a New York style deli, and serves breakfast all day.  My dining companion and I tried them out on a weekday for lunch.  The cozy dining area was serving everyone from business people tapping away on their  laptops to grandmas pushing their  walkers.
The bacon cheeseburger with fries, $7.99, disappeared quickly and was pronounced good.  I was less satisfied with my order, an open-faced grilled caprese sandwich on whole wheat ($5.99).  The bread looked like it had spent the briefest of spells in the toaster and the tomato was just your regular supermarket-in-February variety rather than the high-summer kind it should have been, given that it was July.
But why did I go and order such fanciness at a New York-style deli anyway, when what I should have been trying out was the pastrami or the reuben or something?  Because they sent me in that direction, that's why.  Sure you can get knishes  or matzo ball soup there, but the fact is,  a third of the menu is devoted to wraps and other items a true New York deli would scoff at.
So although Kugel's bills itself as one thing, they are actually devoting much of their energy to a palate that doesn't generally make room for whitefish salad.
Sure, we'd try it again.  But next time I would ignore the specials board and go for the real deli experience.