Most of the time when Wellesley grabs headlines beyond Wellesley it's for the wrong reasons and that proved to be the case in 2010. However, the biggest stories in town this year were mostly of local interest, with an emphasis on change, usually for the better.
1. The unforgettable field trip. Local media, bloggers, lawyers and more had a field day when a video was leaked showing a few students taking part in a religious exercise during a social studies field trip.  While the field trip took place during the spring, the story exploded in the fall after a group against the mosque the school visited released a video taken by a chaperoning mom.  School Superintendent Bella Wong apologized for the episode, acknowledging that better oversight was needed during the trip to avoid a church/state conflict. Most parents who spoke out on the issue defended the school's efforts to promote diversity and dismissed suggestions that some larger religious conspiracy was at work.
2. Most complicated bridge project ever only takes 7 years to complete! It took a mere 7 years, multiple contractors, $8M-$9M, and countless traffic jams and police details, but the David H. Locke Bridge at Rtes. 16 and 9 in Wellesley finally opened at the end of summer. Of course now the traffic is even worse as travelers, many from far away, slow to admire this architectural marvel whenever they drive over or under it.
3. Grossman's makes way for Waterstone. The all-too-familiar orange-and-white eyesore finally was torn down in August to make way for a senior living project called Waterstone at Wellesley (artist's depiction shown here), plus a CVS and Newton-Wellesley Hospital arm in 2012. We're still kicking ourselves for not taking our family Christmas picture in front of the old Grossman's before it was taken down.
4. A Whole lotta change. Wellesley moved further upscale with the shutdown of the tired-looking Star Market at 448 Washington St. in July to make way for a shiny new Whole Foods Market set to open by fall of 2011, and possibly even a farmer's market along the aqueduct abutting the property. . Another casualty of the move was Tian Fu, whose ouster led to a very public back-and-forth between the small Chinese restaurant and Whole Foods. Tian Fu continues to look for another location in or near Wellesley. Meanwhile,  the separate shutdown of College Square Pizza not long after Upper Crust Pizzeria opened (not that the two were related) pointed to a further upscaling of Wellesley's food scene.
5. Wellesley: More waterfront property than we needed. Wellesley got hit hard with flooding during the spring, with the fire department unable to keep up with sump pump demand. Everyone from the Wellesley Weston Chabad to yours truly got swamped. The spring rains failed to stave off a water ban during the summer. More flooding hit Wellesley —  on Rte. 9 —  in the fall following a water main break. However, Wellesley dodged what the MWRA called a "catastrophic" water main break in Weston in May that sent people from many communities scrambling for bottled water all over the state — even at a road race in Wellesley — thanks to its water supply diversification strategy.
6. Will seniors live to see new center? The town's plans for a new senior center took new twists and turns during 2010, with the latest proposals involving development of a social services campus at the site of the current community center (below) rather than at the old American Legion site that was originally targeted for a standalone senior center (and for which some $600K has been spent for a design plan). Parking concerns and obstacles to buying adjacent land have contributed to that original plan being stymied. Hey, there's always Waterstone (see above)  for a lucky few seniors…
7. Wellesley goes really green. Yeah we have more than our fair share of SUVs and some in town think the schools could be recycling more efficiently, but Wellesley residents and the town are also doing a lot of environmentally healthy things these days. Wellesley College, for example, has installed new solar panels near its outside running track, is replacing old-fashioned bulbs in its lanterns with LED bulbs and is hoping its refurbished Alumnae Hall will receive LEED certification. Babson College has been on the energy efficiency forefront in town and held an energy and environmental conference in the spring.  Linden Square is adding dozens of trees along the main road to make the shopping area feel friendlier. The town held a big sustainability expo and symposium in October to highlight its efforts, including its GroundedPower energy meters, and the Municipal Light Plant recently began generating electricity from a new photovoltaic system.  The town also formed a Sustainable Energy Committee.
8. Wellesley protests. It's getting downright political around town these days.  When Wellesley Middle School (below) neighbors heard about plans for school renovations including modular classrooms that might lead to a noisier and more traffic-heavy neighborhood, these residents rallied to get the school system to change its mind and a new plan was approved at a Special Town Meeting in December. More recently, neighbors in the Brookside Road area (below) have been fighting to keep Wellesley Country Club from building storage facilities and more near wetlands and along a scenic stretch of town. It remains to be seen what will happen on this front. Many neighbors living along the Fuller Brook Park have also spoken out about plans to pave the path that winds through town.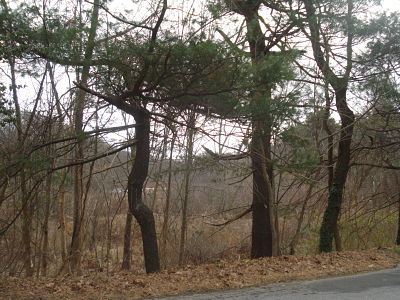 9. Say it, don't spray it. We're a little offended that graffiti artists Shepard Fairey and Banksy haven't left their marks on Wellesley given that everybody else with access to a spray paint can seems to have done so.  The Waban Arches (below) along the Sudbury Path and Guernsey Trail have repeatedly been sprayed. Vandals spray painted symbols on the new and old high school buildings in October. Police also nabbed some Wellesley College students who were tagging the Bacon Street bridge. All this despite plenty of fine art programs offered by Wellesley's Recreation Department and others.
10. Wellesley High School rises. Unlike some other projects in town (see #2 above), construction has flown on the new Wellesley High School ever since the official groundbreaking in the fall of 2009. The building even has a new winter coat that should enable workers to stay toasty as they continue on the project over the winter.  What's more,  real live regular updates are available from WHS and the construction company. It looks like it might even come in under budget, maxing out at $115M. It just keeps going up and up and up, and is still projected to open in early 2013.
(Okay, what did we miss?)
[polldaddy poll=4173430]