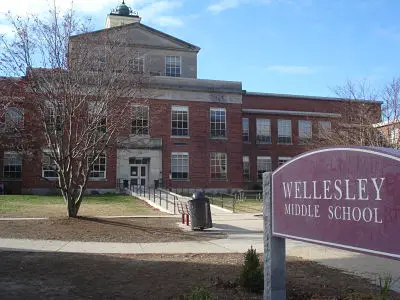 Wellesley Middle School, which in recent months had some $20K worth of iPads, video cameras and other technical gear stolen, now is reporting that student art work and materials from a jewelry class have gone missing (we've heard that a couple of spools of silver wire were among materials taken).
The Swellesley Report had heard buzz about this late last week and we were over the weekend by a parent whose child's work had been swiped. The parent was puzzled about why the school had not communicated with parents or the wider community about "a serious lack of security in this building."
WMS principal Jamie Chisum re-issued a memo to parents Sunday night that he said was intended to go out on Oct. 11 but did not due to technical difficulty.  He wrote in part:
"There were some materials taken from the jewelry room two weeks ago and then more materials taken over the long weekend.   The items were stored in a locked cabinet that was broken into.  The Wellesley Police have been notified of all the details and are working on the case.  
These thefts have been very upsetting to both students and staff.  Some of the students impacted were very sad because they lost their work while others were angry for the same reasons.  The art department is doing its best to allow students to be able to recreate their work even though it means starting from scratch. I know the natural inclination is to think like a detective and try to solve the case because it is mine too.  However, we are leaving the real investigation to the professionals at the Police department and we are doing our best to cooperate with them so they can do their job well.   Not only is this how we are proceeding, but it is also how I'm asking the staff to talk to kids about the thefts when the issue comes up.   I appreciate your cooperation in sharing that message with your children if the topic arises at home. "
Wellesley School Superintendent Bella Wong, responding to our inquiry we sent to Chisum Sunday AM, wrote that: "We have taken measures to assure items of value are secured at the close of each school day… The recurring theft we are experiencing has been very troubling for us.  We appreciate very much the support we have been receiving from staff and the police department to mitigate recurrence and support resolution."