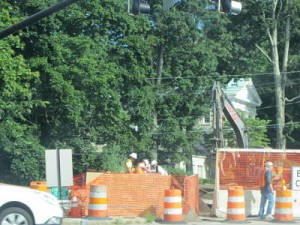 A reader who was walking from Linden Street to the Wellesley Hills Post Office at about 4pm this afternoon says she saw Wellesley Water & Sewer and DPW teams cleaning up from the Rockland Street Bridge crew who had hit, and broke through, a water main.  "Water was everywhere… the rail tracks were covered… and the policeman doing duty coverage said this event would likely interfere with construction progress," wrote reader SJ.
Last month the crew hit a natural gas line, which stunk up the area but did not cause any apparent harm.
The project, which has hit design snags as well, was originally budgeted for $1.6 million and slated to wrap up this month. But that budget is no doubt blown and the bridge won't by done until at least December, according to the latest estimates. The bridge closed to traffic in January.
RELATED: Wrong way on Rockland pedestrian bridge