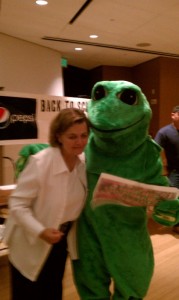 Wellesley College's student activities group, SBOG, has issued a plea for help to find its beloved frog mascot suit (shown here with Wellesley prez Kim Bottomly in an SBOG photo) in the most serious missing mascot case since Wally the Green Monster temporarily disappeared from Fenway Park during the summer:
If you know where our frog suit might be, please bring it back to the office. We promise to look the other way if the frog appears in the office and no repercussions will be taken. We are asking the Wellesley community to please help us find our frog. Our traditions will not be the same. (Contact: [email protected])

Well, if we could help reunite a young boy and his stuffed dog, maybe we can do the same for the Wellesley women and their frog suit.