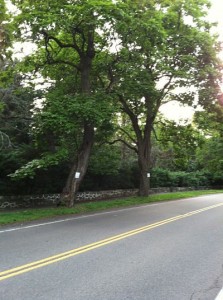 Wellesley this week is chopping down a bunch of Catalpa trees lining Washington Street down near Wellesley College and towards the Hunnewell estates (as we mentioned would happen in July).
These are not your everyday disposable Wellesley trees though. Plans are to give the trees new life by instituting a "propagation plan using cuttings from the trees," according to a Natural Resources Commission meeting held over the summer, where it was decided the trees were all hurting, from having been hit by cars or decaying from age or other factors.
The trees were planted by Mr. Wellesley himself, H.H. Hunnewell, ages ago to see if the Catalpa wood would serve well as railroad ties, but it didn't, according to Hunnewell's grandson, Willard.