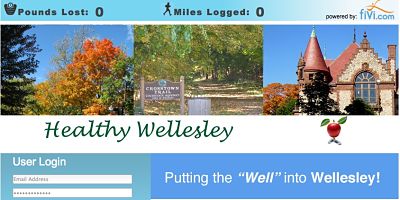 Wellesley's Health Department and Newton-Wellesley Hospital have joined forces to launch the Healthy Wellesley website, an online portal for residents (and others) to track their health activities (and everything from water consumption to calories burned), sync up with neighbors and learn about trends and training plans, including through videos.
It's definitely one of those peppy sites featuring lots of exclamation points to get you real motivated!!! You do need to fill out an online profile to participate on the site.
The company where I work recently instituted a plan to help employees get fitter, outfitting those who volunteered with pedometers and sticking us on teams to provide some competition. Hundreds of people took part and it really did change some workers' behaviors. So hopefully, Healthy Wellesley will wind up inspiring some residents, too.
Healthy Wellesley will celebrate its launch with a Harvest Your Health Festival on Nov. 4 at the Warren building at 90 Washington St. More info here.