Our power is out as of Monday noon (NStar serves our street), hope the rest of you fare well….we'll do our best to keep site updated.
Two trees down at Sprague Elementary School. Thanks to reader GR for sending along photo.
Tree down in a ca West Riding Road Wellesley. twitter.com/WPDPhoto/statu…

— Wellesley Police(@WPDPhoto) October 29, 2012
Wellesley Police are also testing this live video stream of Hurricane Sandy action in town.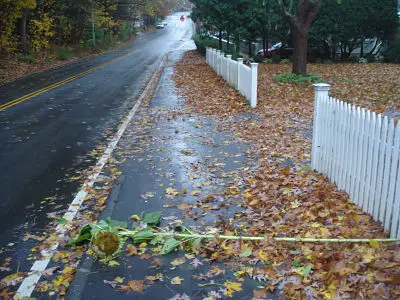 Sunflower down on Weston Road.
And this from Dr. Jeff on Twitter:
[email protected]swellesley Trees swaying in front of Police Headquarters at 12:20 pm #sandy twitter.com/drjefflo/statu…

— Dr. Jeff(@drjefflo) October 29, 2012
Here's one more from IC of another tree down on River Street. WMLP, police, tree guys have descended upon the scene…
Thanks to IC for passing along this photo of a tree down on River Street in Wellelsey: "Town responds within minutes! Not sure if someone called….but the crew is working hard out there!"
Calm & quiet before the storm on Monday morning in Wellesley Square.