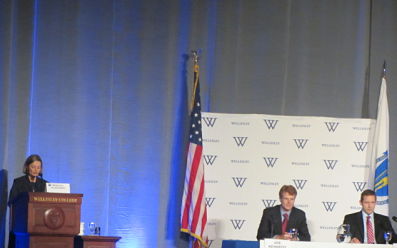 4th congressional district U.S. House candidates Sean Bielat (Republican) and Joseph Kennedy III debated at Wellesley College Monday night  in what was a relatively civil forum compared to some of the debates seen in recent weeks among those running for higher office. The candidates regularly referred to each other by first names (and none of that Joe Biden "my friend" business), though tried to be very clear with the full house at Alumnae Hall how they differed from one another.
The only really testy moment came when audience member Roy Switzler, the Wellesley realtor and former state rep, asked Kennedy if his campaign was a joke, harkening back to a question asked of Ted Kennedy during a debate some 50 years ago regarding the benefits of having his famous family name. Switzler was booed by many in the audience and the town official who happened to be sitting next to me muttered "that's awful."
Kennedy responded that he was proud of his record of public service (Peace Corps, public defender) and of the campaign he has run. Bielat quickly defended Kennedy's right to run, though then used the opening as an opportunity to take a few shots at the Kennedy's wealth and his rival's comparative inexperience. Kennedy followed up with his best line of the night, noting that "We're both in our 30s, let's not pretend we're not," suggesting neither candidate should oversell their experience (Bielat took a page from Mitt Romney's book in referencing his own experience in the business world as potentially being valuable in helping to work in Washington to spur job growth and took a page from Scott Brown's book in referencing his military experience).
The debate, well moderated by League of Women Voters' Jo-Ann Berry, saw Bielat as more of the aggressor during the debate, with Kennedy coming off as the more compassionate of the two candidates. Bielat emphasized the need to cut taxes, slash wasteful spending (he targeted DoD bureaucracy as one area ripe for cuts) and spur growth, though distanced himself somewhat from Republican VP candidate Paul Ryan's economic plan, which Kennedy brought up numerous times to try to paint Bielat as being out to gut Medicare and Medicaid. Kennedy focused on job growth and education, and said he would be very willing to work with politicians across the aisle. Bielat warned early on in the debate that Kennedy would inevitably bring up the Ryan plan as a "scare tactic."
Neither candidate put forth any particularly innovative proposals of their own during the debate.
A question about supporting a women's reproductive rights elicited murmurs of approval from the crowd. Bielat stated clearly he is pro-life, but said women's issues are much broader than simply reproductive issues. Kennedy vowed to be a strong supporter of women's reproductive rights and warned that Bielat "thinks Roe v. Wade should be repealed and left to the states."
The candidates did agree on a smattering of topics, including the need to keep more foreign-born, highly skilled people in the country after they are educated here and to be smart about how to regulate clean air and water, not putting too much financial burden on businesses.  They both pointed to the need to give small businesses a better chance to succeed, and hire, though differed on how to make that happen, with Kennedy backing more government programs and Bielat pushing to put "more of their own money" into the hands of businesses through tax cuts and to present them with a clearer picture of employee healthcare costs than the Affordable Care Act allows for. "It's about predictability," Bielat said.
MORE COVERAGE: MetroWest Daily News