Justine's Table, located on Rte. 9 east next to Dunkin' Donuts (978 Worcester St.), is making its loooong-awaited opening on Monday, Nov. 5 and looks to be a pretty classy joint judging from photos like this on its Facebook page.
Ads for waitstaff earlier this year promoted Justine's as "showcasing the best of Americ's regional and seasonal fair," plus live entertainment and a private dining room. Justine's describes itself as a BYOD establishment, and offers a "supper club" for frequent diners.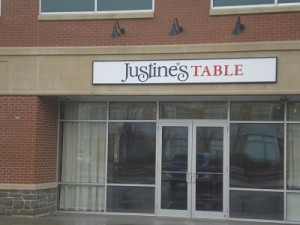 The restaurant, which had a soft opening/tasting this past week, has been threatening to open for some time. It even dodged a possible auction of the site over the summer. Justine's got the Board of Selectmen's blessing early this year after addressing parking concerns.
RELATED: Where to eat in Wellesley