The Wellesley Historical Society on Thursday night dusted off pieces from its space-challenged collection and let it breathe during a showing at a stately Wellesley Hills home.
Dozens of guests mingled, sipped wine and sparkly water, and chomped on light munchies while checking out the oldies but goodies and listening to WHS officials share their vision of bringing the non-profit society's artifacts more into public view.
John Celi, president of the society, said one goal is to help more residents understand the role Wellesley played in the development of the United States itself. New Executive Director Bob Damon, formerly with the Old North Church in Boston, says the society is reaching out to the public for ideas about how to make its collection more accessible to residents old and especially young.
The society, which started in 1925, is currently constrained from exposing many of its pieces at the relatively small Dadmun-McNamara House at 229 Washington St. Curator Kathleen Fahey, interns and others have been cataloguing the collection to figure out just what the society has on its hands.
Some of those items, including spectacular Denton butterflies and butterfly jewelry, a steampunky old magic lantern (think latter day PowerPoint projector, Fahey says), old maps and blueprints, a robe worn by famous Wellesleyite Katharine Lee Bates and a painting by Mary Brewster Hazelton, were on display at the party.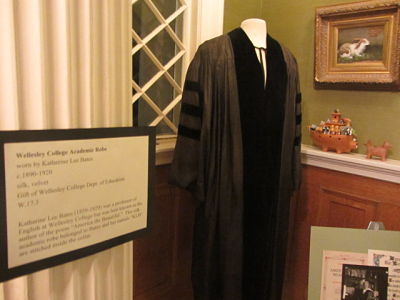 Next up: A program being held at the Wellesley Free Library on Sunday, Nov. 18 at 2pm about the history of Thanksgiving.