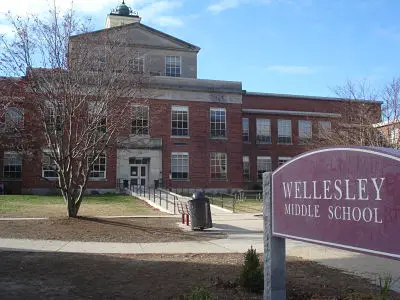 Mark Ito, principal of Wellesley Middle School, has informed parents and guardians of steps being taken to better secure the school building. Faculty met before school started up Monday to review safety and support procedures, he says.
"It has been policy that three doors remain unlocked. The Kingsbury Street entrance allows visitors to access the main office, and D'Auria Drive allows direct access to our WPS Central Office. Although we do not have buzzer systems on these doors, staff can monitor these entrances when people come into the building. The Donizetti Street entrance allows access for those who park in our main school lot causing most traffic to pass through these doors. Until now, we have considered the needs of students who require handicap access, traveling teachers and visiting parents. Due to our heightened security, we have decided to lock the Donizetti Street doors at 7:45 a.m. Since there are no receptionists to view these doors, we feel it provides greater safety to those inside."
Another change:  "We have asked that all students pass to classes within the building. This will allow the courtyard doors on Kingsbury to remain locked. Until further notice, no students should be walking in the area in front of school during school hours."
Ito urged visitors to sign in at the Main Office and get a badge in order to help staff and faculty better understand who is in the building.
The broader school district is also having discussions on topics such as implementing buzzer systems. Community forums would be part of the decision making process.
According to Ito, Monday has otherwise been a routine day in terms of students "appearing productive and settled. Based on our observations, we believe that the emotional impact to students has been low; many have exhibited resilient behavior as they work through their school day."
RELATED: Students wear green/white to honor Newtown victims
Wellesley schools respond to Newtown tragedy
Mass. Commissioner of elementary & secondary education memo