2012 in Wellesley has been a year of beginnings, excitement and sadness. Here's a recap of the year's most memorable moments, not in any particular order:
*Fresh start for Wellesley Public Schools. While some longtime Wellesley residents were sorry to see the historic old Wellesley High School razed, there have been few complaints about the new building from those using it that we've heard anyway.  The new school opened last winter, giving the Class of 2012 a taste of it before the Classes of 2013-2016 got to start this current school year in it. Separately, David Lussier took over for Bella Wong as superintendent, following a messy year or so of WPS administrative issues, and has boosting Wellesley's math/science curriculum on his priority list along with making schools more secure. The school system also reorganized its business office and booted Chartwells as its food service. And yes,  several schools welcomed new principals, while WHS principal Andrew Keough is looking for a superintendent's job elsewhere.
*You're Not Special speech:  Wellesley High English teacher David McCullough's 2012 commencement speech, in which he urged students to get over themselves and contribute to society, resonated not only locally, but internationally. Our initial publishing of the transcript knocked out our website when the story went wild on the Internet, though Wellesley Media Corp.'s video of the talk picked up the slack and went viral around the Web, too. McCullough, following in his famous historian dad's footsteps, got a book deal out of the talk.
*Untimely deaths. Wellesley and beyond were saddened during the year by the deaths of a number of current or former Wellesley residents, including: Wellesley High Student Hannah Randolph, who was killed in a skiing accident;  father/husband/cyclist Alex Motsenigos in an accident on Weston Road over the summer (eerily, we wrote about the dangerous intersection where the Motsenigos accident took place just months before);  and Wellesley High alum and  nurse Lisa Ann Gallup, at age 26, who succumbed to cancer. Randolph's spirit was celebrated during a mini-marathon at Wellesley Middle School and at a 1-mile race in town. The tragic news of a former Wellesley couple's death also had a profound impact on many in town.
Wellesley also lost one of its most accomplished citizens over the past century: Dr. Joseph Murray, a Nobel Prize winner for his work on organ transplants and a life-changer for many who benefited from his plastic and reconstructive surgery.
*Arts alive: The arts thrived in town, which welcomed a new theatre at the new Wellesley High and a new non-profit program called Wellesley Theatre Project. The Wellesley Community Art Project kept otherwise vacant downtown storefronts colorful with artwork from various local parties. Students earned regional and national recognition for their writing and art. A new sculpture made a dramatic landing at Wellesley College (shown here).
*Sports success: The Wellesley Little League South team took the area for a fun summer ride as it nearly made its way to the Little League World Series in Williamsport. Other highlights included a surprising Wellesley High win over powerhouse Natick in football, William Fahey getting his chance to get into a WHS football game despite having cerebral palsy, and the drafting of ex-Wellesley player Nate Freiman by the Houston Astros. Wellesley's inaugural turkey trot on Thanksgiving Day proved to be a huge success, attracting around 1,600 runners.
*Hidden money: A Wellesley employee struck it big by stumbling across a hollowed out book with at least $20K inside. He did the gracious thing by alerting the public to his find, in hopes of finding the rightful owner, but as far as we know, no one stepped forward to claim it.
*Near misses: A wild car accident caught on video thrust Wellesley and a Newton-Wellesley ER doctor into the news after she allegedly made her car fly out of the Whole Foods parking lot into traffic while under the influence of alcohol. Luckily, no one was killed in the November accident. Over the summer, a driver accidentally plowed into the front of Quebrada and again, no one was seriously hurt.
*Sun Spa: Wellesley's annual prostitution story got local media in a frenzy. Authorities arrested owners of massage parlors in Wellesley on Rte. 9 and in Revere that allegedly were being used for more than back rubs.
*Hurricane Sandy: Wellesley was hit hard, with trees and property damaged, though most of us escaped anything like what our neighbors in New York, New Jersey and other areas felt. Many in Wellesley rose to the moment by spearheading or participating in drives to provide those left homeless or bereft by the storm with needed clothing and food and money. An October earthquake also gave Wellesley a jolt this year.
*Presidential election: Wellesley residents got into the spirit of the election season, with a Mitt Romney fundraiser taking place on the sly at one schmancy home, and a debate between U.S. House of Representative candidates Joseph Kennedy III  and Sean Bielat at Wellesley College, plus the usual lawn sign wars.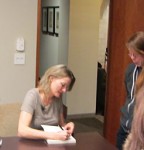 *Celebs: Former First Lady Laura Bush partied with the Hunnewells in honor of author Edith Wharton. Secretary of State Hillary Clinton returned to her alma mater, Wellesley College. Pro athletes Ray Allen and Carl Crawford left town when they departed the Celtics and Red Sox, respectively, though left pricey houses on the market here.  Sister Helen Prejean, Oprah Winfrey, Deepak Chopra, singer Judy Collins, MSNBC host Melissa Harris-Perry, skater Kristi Yamaguchi, and Pulitzer Prize winning novelist Jennifer Egan (shown) and Lemony Snicket (aka Daniel Handler) were among big names in town during the year.
*Wellesley books. We were all reminded, 13 years later, of the notorious Greineder murder case with the publishing of a book called A Murder in Wellesley. On a much lighter note, Wellesley Wives got people talking.
*St. James the Great vigil ends. After 7+ years, parishioners ended their vigil at the shuttered Catholic church on Rte. 9, and Wellesley started making plans to buy the property and turn it into a recreation area featuring a playing field, pool and ice rink. The space is being used for a less glamorous Morses Pond dredging project for now. Let's just hope the archdiocese doesn't pull any fast ones with the property now that the vigil is over.
*Rockland Street Bridge. This project to replace a central bridge in Wellesley got off to a slow start, with design/contractual issues, a wrong way driver on the temporary pedestrian bridge, then water and gas line accidents, but appears to be on track for an early 2013 opening.
 *Going Green. Wellesley was honored by the U.S. Environmental Protection Agency as the state's first Green Power Community for its efforts in renewable energy use. A farmer's market opened in the Whole Foods plaza, making it easier for Wellesley residents to buy local. Meanwhile, efforts to refurbish Fuller Brook Park moved ahead.
*Town revamps liquor licensing rules. Town residents overwhelmingly approved a change to town rules that allow smaller restaurants serve liquor. Town officials credit the change to helping revitalize downtown business.