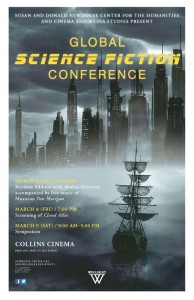 Now maybe we can finally get to the bottom of whether so many of the people we run into in Wellesley are actually space aliens: The Global Science Fiction Conference is being held at Wellesley College in March.
Here's the basic agenda for the 2-day event:
Global Science Fiction Keynote Address with Andrea Hairston
Friday, March 8 4PM
Collins Cinema, Wellesley College/Free and Open to the Public
Science fiction author Andrea Hairston will give a reading from her recent novels, accompanied by live music by Pan Morigan, together with a short talk on science fiction and fantasy in the age of globalization.  Andrea Hairston is the Louise Wolff Kahn 1931 Professor of Theatre and Afro-American Studies at Smith College.  Hairston's first novel, Mindscape, was published by Aqueduct Press in March 2006. Mindscape won the Carl Brandon Parallax Award and was shortlisted for the Phillip K Dick Award and the Tiptree Award.  Redwood and Wildfire, her second speculative novel, was published by Aqueduct Press in February 2011 and won the Tiptree award in March 2012.
Film: CLOUD ATLAS
Friday, March 8, 7pm
Collins Cinema, Wellesley College/Free and Open to the Public
From acclaimed filmmakers Lana Wachowski, Tom Tykwer, and Andy Wachowski, the powerful and inspiring epic drama Cloud Atlas explores how the actions and consequences of individual lives impact one another throughout the past, the present, and the future.  Action, mystery, and romance weave dramatically through the story as one soul is shaped from a killer into a hero, and a single act of kindness ripples across centuries to inspire a revolution in the distant future.
Global Science Fiction Symposium
Saturday, March 9, 9AM – 5AM
Collins Cinema, Wellesley College/Free and Open to the Public
An international group of scholars will participate in a series of panels intended to engage critically with science fiction from a broad range of national and cultural traditions.  How can we situate science fiction as a genre within in a global context? How does national imagery function within the science fiction genre? How are the familiar science fiction themes of utopianism and dystopianism deployed in different national literary contexts?  How is post-humanity manifested in this literature – in terms of gender, race, technology, or something else? How does science fiction engage with imperialism and post-colonialism in a global literary context?
See the tentative schedule HERE