While plenty of young people take advantage of the Wellesley Community Center for activities such as cub scout events and sports league drafts, now a couple of high school students are going to get a real inside role in guiding the center's direction.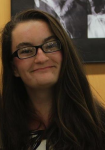 The center has created the position of associate board member and under the guidance of  Wellesley High School administrators Lynn Novogroski, Andrew Keough and Julie Trask, has welcomed two student leaders onto the board: Julia Bogiages and Connor Lehner.
The center will look to its young board members, both Wellesley High juniors, to help spread the word about the center's resources to the town's youth, such as via social media. They will also take a role in supporting activities at the center, such as the upcoming Wheels of Wellesley car show on Wellesley's Wonderful Weekend in May.
The Wellesley Community Center, at 219 Washington St., at the intersection of Rte. 9 and 16, offers space for everything from business meetings to parties to community events (no charge for youth group/senior groups, subsidized charges for other civic groups).