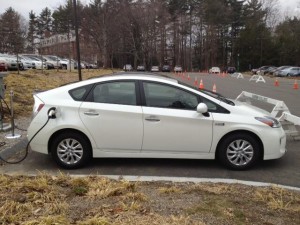 Babson College on Friday afternoon will dedicate a pair of EV charging stations at the Knight parking lot that can be used by all who visit the campus in Wellesley.
Babson has 2 charging stations, which are described as being of the regular-speed Level 2 variety and usable for any plug-in hybrid cars, which increasingly are being used by Babson faculty and staff, according to the school. "The charging stations not only reflect their need to have a station accessible to them, but will also provide an incentive for others to consider buying electric cars," writes a school spokeswoman.
An official ribbon cutting ceremony will take place in conjunction with Toyota execs showing off the car maker's new Cell Hybrid Vehicle prototype of the FCHV-adv, which is on campus Friday only as part of the school's Energy & Environmental Conference. Toyota claims the car offers a 25% improvement in fuel efficiency and has a single fill-up cruising range of around 515 miles, more than twice the range of its predecessor.
As far as we know, the only other public charging station in town is at Whole Foods (though feel free to let us know if you are aware of others…).
RELATED: Wellesley family gets plugged in with electric car