WPD officers on scene in Boston assisting Boston Police. pic.twitter.com/vu97fD3eor

— Wellesley Police (@WellesleyPolice) April 15, 2013
Wellesley police checking trash cans along the marathon route for anything suspicious (photo sent by OM).
Two explosions near the Boston Marathon finish line shortly before 3pm have resulted in multiple casualties and dozens of serious injuries. Local buildings, including hotels and colleges, were put on lockdown.
Many news teams are naturally on the scene, having been there to cover the race, including Fox News.
Those in Wellesley began to react:
Marathon Monday isn't supposed to end this way. #Wellesley is thinking of everyone at the finish line.

— Kim Bottomly (@HKBottomly) April 15, 2013
Just drove through the Wellesley route. Police examining trash cans before handing trash over to DPW. #bostonmarathon

— Michael Figueroa (@figmic) April 15, 2013
The Townsman spoke with one Wellesley resident and runner who heard the explosions about a half mile before she got to the finish line. She and other runners were  stopped as the race was closed off.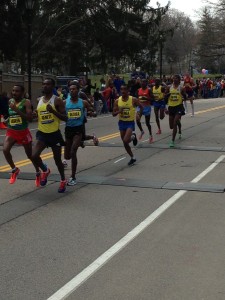 The BAA is keeping people updated on its Facebook page and urging people who want to find out where friends and loved ones last checked in during the race to go here and conduct a name search.
WBZ was running a live camera at the finish line:
Boston Marathon Finish Line UPDATES: