The Swellesley Report joined forces with well-connected Wellesley Little League dad Chris Cavallerano to arrange for a pool of cub reporters from town to descend upon Fenway Park before the Red Sox game Tuesday to interview Wellesley High and Duke University alum Nate Freiman (pronounced FRY-man… something NESN broadcasters struggled with) about his breaking into the major leagues with the Oakland Athletics this season.
(Our crack Swellesley reporting/photography team — clearly the happiest locals at the park on a cold, soggy night when the Sox got blown out — consisted of Wellesley Little Leaguer Nicholas Cavallerano and dad Chris; Wellesley High student Joey Roberts and dad Joe Roberts of Terriers Sports; and Luke, Owen and Casey Zides, plus parents Tiffany and Evan Zides of Doug Carroll Baseball Academy. The video below gives a nice glimpse into Freiman's personality. Separately, the Wellesley High baseball team and various school administrators did a meet/greet with Freiman Tuesday at the park as well.)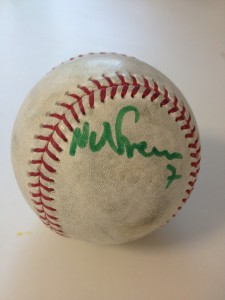 Freiman was gracious to the max, as were the Red Sox, in accommodating the Wellesley contingent. Freiman took our crew on a tour of the park, including behind the Green Monster, where Freiman signed his name in the tradition of visiting ballplayers.
Freiman, who spent the past few years in the San Diego Padres minor league system and came to the A's late in pre-season after being waived by the Houston Astros, answered oodles of questions for us. These ranged from what kind of bats he uses (maple, ash and birch varieties that are 34 inches long and weigh 32 ounces…"pretty heavy") to what position he liked to play in Little League (catcher until around 7th grade…and he noted that his team won the championship when he was 12) to what it was like on Opening Day ("It was like being a Little Leaguer, looking around at the 40,000 people in the ballpark.").
Responding to a question from Nicholas Cavallerano about advice for little leaguers, the A's #7 kept it simple: "Be on time, play hard and just have fun." He also recommended laying off the video games and getting outside and playing ball.
For coaches, he said "the best are the ones who realize this game's hard."
Asked by Joey Roberts what the biggest change has been between the minor and major leagues, Freiman replied: "Probably flying around instead of driving around (7-hour bus rides being not uncommon)." Roberts also asked Freiman what it was like right before his first big league at-bat and Freiman said "I did everything I could to pretend it wasn't the major leagues… so that I could function."
The 6-foot-8-inch right-handed batting first baseman — who says the A's have asked him to wear a helmet in the dugout so he doesn't crack his head open on the ceiling — also shared some behind-the-scenes tales of what it's like to be a rookie in the MLB. For one, he fessed up to cheering when the Sox hit a homer during Monday's game and then taking grief from his A's teammates.
And yes, as a major league newbie he's been pranked a few times, including when he got his first hit. Upon returning to the dugout Freiman said he was given the ball, but was bummed when he saw his name had been misspelled and the date was wrong — only to find out that wasn't the real ball. He also got set up by ex-Sox player and current Oakland A's outfielder Coco Crisp to pay a $1,000 dinner check when out with the team, though later learned that wasn't the real check.
Freiman, whose hobbies include caddying for his professional golfer wife, says his goals this season are for the team to make the playoffs and for him to be a part of the team, not worrying about specific average or home run numbers (he singled in each of his first 2 major league at-bats and hit his first homer on Marathon Monday). The A's wind up their visit to Fenway on Wednesday and aren't scheduled to return to Boston during the regular season, but who knows, maybe they'll match up vs. the Red Sox come playoff time.
The upshot of the visit with Freiman for Tiffany Zides, who has 3 boys in Wellesley Little League, was this: "Nate is such a fantastic role model for my boys!  I can't believe how he was saying what every parent wants to hear about working hard in sports, school and life."
(Thanks to Chris Cavallerano and Tiffany Zides for the photos/videos).