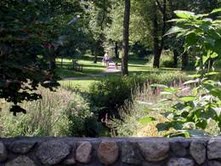 Fresh off last weekend's Earth Day clean-up in Lower Falls, you have your choice of participating in 3 different Wellesley clean-ups on Saturday morning (April 27) and/or going on a guided walk of the town's trails.
Friends of
Fuller Brook Park 
invite neighbors to clean up from 9-10am along the brook.
Separately, you can also enjoy the recently tidied-up Lower Falls area with a guided walk by the
Wellesley Trails Committee
from 9-10am.