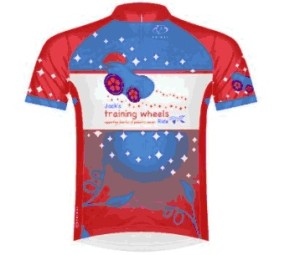 Wellesley residents Matt and Linda Ramsden, who lost their 2-year-old son Jack in 2005 to a rare form of pediatric cancer called neuroblastoma, are organizing their fourth annual Training Wheels ride to raise money for pediatric cancer research and family support.
The ride starts and ends at their home on Weston Road on June 8, and riders can choose from three different courses (16-, 33- and 55-mile routes) that reach into neighboring communities such as Dover, Sherborn and Medfield. Water stops will be situated along the courses, and a post-ride fiesta is planned as well.
The Ramsdens started Jack's Magic Bean Fund in their son's honor in 2010, and have raised over $300K to contribute to research as well as for family-focused programs at Camp Sunshine in Maine where the Fund has started an endowment for the camp's bereavement program. "It is the only ride that we know of that is devoted purely to Pediatric Cancer," Matt says.
The event, which starts at 9am on June 8, could use more riders and volunteers (and virtual riders), so if interested, here's where to register.
RELATED: Wellesley Hills branch library children's room dedicated to Jack Ramsden