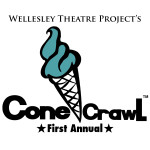 Wellesley Theatre Project (WTP)
this weekend will begin selling tickets to the first annual Wellesley Cone Crawl, which on June 15th from noon to 5pm gets you a small cone at 6 local ice cream/smoothie shops (JP Licks, Pinkberry, Truly Yogurt, White Mountain Creamery, Whole Foods  and Boloco) and raises money for WTP programs. You can find reps from the nonprofit WTP around during this Wellesley Wonderful Weekend.
How it works:
Community supporters, students, parents, and folks wanting to have a crazy fun time visiting the best Cone Shops around will purchase a WTP First Annual Cone Crawl ticket for $10 each.
Each WTP Cone Crawl ticket will entitle the bearer to visit participating Wellesley ice cream, frozen yogurt, or gelato shops to enjoy a small cone (think tasting size).
When they complete the Cone Crawl Course of 2013, the participants will be invited to the Wellesley Theatre Project studio on Central Street to claim their WTP "I Conquered the Cone Crawl" T-Shirt.
All proceeds will support WTP's classes and camps, productions, workshops/master classes, scholarships and more.
Sponsors include First Commons Bank, Milestone, Benoit Mizner Simon & Co., Wellesley Bank Charitable Foundation, and Music Together of Wellesley and Needham.