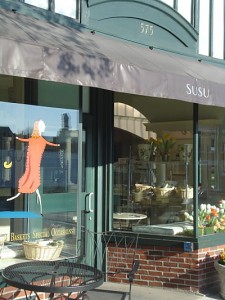 Among the agenda items for the Wellesley Board of Selectmen for its Monday, May 6 meeting:
*Susu Bakery Boutique looks to branch out from cupcakes, cookies and tea by applying for a wine and malt license.
*Justine's Table,  a BYOB establishment on Rte. 9, is looking for an all alcohol license.
*And the incoming Wellesley Square Dunkin' Donuts, which we told you about in March, is going for a plain ol' Common Victualler License. Sorry, no booze and doughnuts for you! (Though we did have an Irish Kreme doughnut from another Dunkin's on St. Patty's Day… can't say we highly recommend that delicacy.)