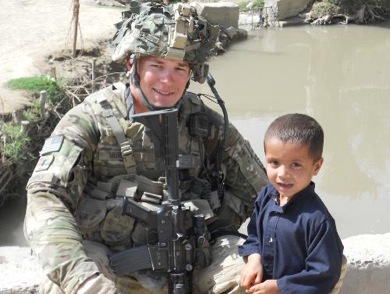 A nonprofit called 4 Paws For Ability has reached out with an amazing story involving Army Capt. Jake Murphy, the 2005 Wellesley High grad who lost his legs after stepping on an explosive while on duty in Afghanistan 2 years ago.
Murphy has persevered remarkably well since the incident, having been fitted with prosthetics, completed the Boston Marathon via a handcycle in April and competed in the Figawi sailing event in May.
Still, Murphy isn't one to turn down help, and he's been on the hunt for a service dog to support him.
That's where the real twist in this story comes in. When Murphy was injured by the explosive improvised device in July 2011, fellow soldier Derek McConnell rushed him to safety. Later that same day McConnell stepped on two IED's and lost his legs. Murphy and McConnell returned to the United States for treatment at Walter Reed National Medical Center in Maryland.

Sgt. McConnell died this past March from complications related to his war injuries. Before he died, he was approved to receive a service dog named Gabriel via 4 Paws For Ability, but McConnell didn't live to meet the dog. A search for another soldier to match with the dog bearing the name of a guardian angel led to Murphy's door.
Murphy, who lives in Silver Spring, Md., with his wife Lisa, is slated to meet Gabriel on June 17 at a training facility in Xenia, Ohio.
(Photos courtesy of 4 Paws For Ability)