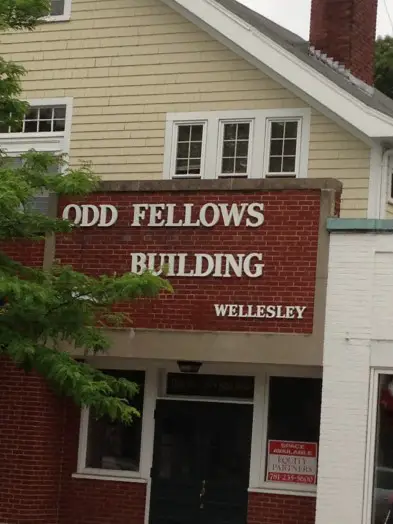 The 3,000 sq. ft space known as the  Odd Fellows Building at 89 Central St., in Wellesley Square is now available for lease.
It wasn't that long ago that the Sincerity Lodge #173 of this fraternal organization was meeting at the building. But it has  since relocated to the Wellesley Community Center at 219 Washington St. for its meetings.
The number of members in many such groups has been dwindling, resulting in their buildings being sold off and repurposed for uses such as rest homes, as is the case in Worcester.
Dennis DiSchino, president and managing principal of Equity Partners, says the Odd Fellows space "is great for any type of exercise business with its large hall, hardwood floors and high ceilings."
We don't know whether any Wellesley historical organization might come to the rescue of the distinctive Odd Fellows Building facade, but we're not taking any chances: We'll be posing shortly for a Christmas card picture in front of the building (no copying!).