It's been both a heartbreaking and heartwarming year in Wellesley. Here's a look back at the top stories of 2013 in town.
Boston Marathon bombings
Things couldn't have been more normal in Wellesley on Marathon Day, as all runners and wheelchair participants passed through town before the bombs went off at the finish line.  In the aftermath of the violence, Wellesley residents responded in many moving ways, including through fundraisers, a road race at MassBay, planting daffodils to line the course next year and rededicating the halfway point of the race.
Big school changes
During his first full year on the job as superintendent, David Lussier put his mark on the school system, which is now sorting out everything from redistricting to an earlier start of the school year to vastly improved technology resources to refurbished and even replaced elementary schools.  Wellesley elementary schools hired new principals (Hunnewell, Hardy) and Wellesley High principal Andrew Keough made at least a couple of unsuccessful bids for superintendent jobs elsewhere. The re-assignment of a popular orchestra director created tension between students, parents and school officials (even to the point of going to court). Among the educational highlights to look forward to in 2014: A town-wide science expo.
Wellesley Inn space finally being filled
Plans for a $35M luxury condo and retail complex dubbed The Belclare made it through the town's political obstacle course to break ground, with prospects of the long-vacant space being revamped by late 2014.
Amazing kids
Wellesley kids impressed through various understated acts of kindness and talent to more public ones, such as a middle school student fighting to restore the pledge of allegiance to school and a Wellesley High student signing off Facebook in a unique deal with her dad. On the sports front, an elementary school student spoke up about equal rights for softball players, WHS female golfers grabbed the state title  as did the girls' alpine skiing team, young soccer players won an inspirational state title, and a group of 5th grade boys earned the national football championship.
All business
A seemingly more restaurant-friendly Wellesley attracted the locally-owned The Local restaurant, though others such as Justine's Table couldn't crack the code.  Well-known businesses such as Alex and Ani and Subway sandwich shop came to town, and unique outfits such as Your French Gift and Dance Republic set up shop.  Longtime women's clothing store The Triangle Shop and restaurant China Sky were among those businesses that bid the town farewell.
Cycling scene
The stunning finding by a grand jury in February that no criminal charges would be filed in the 2012 death of cyclist Alex Motsenigos angered many (a civil suit was filed after this). Though the community also responded with a memorial ride and the town moved ahead by forming a bicycle safety committee to explore ways to make Wellesley more cycling friendly.
Bookish news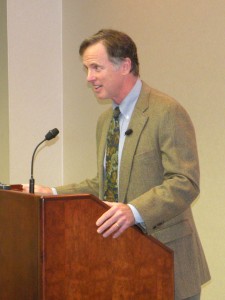 The literary scene was alive in Wellesley, with Wellesley High teacher David McCullough finishing up his book that stemmed from his 2012 "You're Not Special" commencement speech and drawing an SRO crowd to a talk at Wellesley Free Library in November. Noted authors such as Jane Smiley, Junot Diaz and Paul Harding also visited town for readings and book signings. Wellesley Free Library celebrated the 10th anniversary of the main facility, and named a new director.
Big names in town
Babson College hired ex-Massachusetts Lt. Governor Kerry Healey as its president. Ex-WHS baseball star Nate Freiman made it to the major leagues with the Oakland A's. Hot musicians Macklemore & Ryan Lewis performed at Wellesley College. International soccer stars also strutted their stuff in town. Academy Award-winning director Ang Lee paid us a visit. Singer Michelle Chamuel, a Wellesley High grad, had the town rooting for her on TV song competition The Voice, and she came in 2nd.
Art scene blossoms
Local artists raised their profile in town, enlisting the community to create a giant weaving during Wellesley's Wonderful Weekend in May, orchestrating an Arts Walk during the holiday shopping season and designing a beautiful mosaic at Sprague School.
Sad start to summer
The accidental drowning of a New Hampshire boy at Morses Pond forced the town to reconsider its safety rules at the summer hangout. A report with recommendations from a consulting firm was published in September.
Making new history
The Wellesley Historical Society announced plans to move its headquarters from the small Dadmun-McNamara House to the much larger Stanwood House on Washington Street to better expose its vast collection of maps, photos and other artifacts. The society also went on the outreach program, adding historical walks to its offerings.
Veterans honored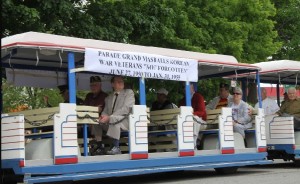 Wellesley gave special recognition to Korean War veterans during the parade at this year's Wellesley's Wonderful Weekend.
On the bus
Wellesley gained a new transportation option, with a regional outfit providing bus service and connectivity to the green line.
Drink to that
Town leaders moved to allow retailers to sell beer and wine. Now it's up to the state to give this its blessing, and then voters will have their say.
From Wellesley to state house?
Wellesley resident Joe Avellone announced his intention to seek the Democratic gubernatorial nomination for the 2014 election. He's a doctor by training and a former selectman in town. In other political news, Gig Babson announced she won't seek re-election to the Board of Selectmen next year, and Town Meeting welcomed another teenager to its ranks.
Horrific house fire
A Wellesley family lost its home to fire in August, though through their own strength and that of the community, they're hopeful of rebuilding on their property.
Senior center limbo
Plans for a standalone senior center in town stalled again, as the Planning Board and Board of Selectmen found themselves at odds. Town Meeting in December approved funding for more planning, but debate over this project has now stretched over about 5 years, so who knows what 2014 will bring. Development of the St. James the Great property also remained in limbo, as Time's Person of the Year still needs to make his decision.
Bridge to somewhere
Residents were relieved when the Rockland Street bridge, after months of delays, was re-opened to traffic in January after being rebuilt.