Not sure if he's only become this way since hitting the big time with a book deal spun from his "You're Not Special Speech," but that David McCullough, Jr., is quite the name dropper. Speaking before a packed room of much more "mature" students than he usually interacts with as a Wellesley High School English teacher, McCullough seemingly went barely more than a minute without quoting or citing one of his chums, like Fitzgerald, Frost, Melville, Dickinson, Bradbury and The Bard, to help illustrate his thoughts on educating teens these days.
McCullough, speaking Thursday night at Wellesley Free Library,  called on parents and educators to encourage kids to read more so that these young people can gain the insights and perspectives to be found in great and even not so great literature. The father of 4 kids, including 3 teens, McCullough said he realizes that this is no easy task, and laments the over-reliance on technology and over-scheduling of kids' lives with sports and other organized activities. (All of which made me feel very self-conscious as I pecked a few notes here and there on my iPad.)
The teacher-turned-author-returned-teacher for the first time publicly shared excerpts from his soon-to-be-published book, including a chapter on technology, and said he had sent off his "locked" version of the book to the publisher that morning.
Harkening back to his commencement speech, McCullough said societal values at least in the United States have created a culture in which students feel entitled and are forced to specialize too early, negating their likelihood to experiment in learning as much as they should. They're afraid of failing because they need to show results, such as on standardized tests. They're always feeling pressure to please and impress adults in their lives (even though "the adult you owe the most is the one you will become"). They're not given enough opportunity to consider different answers to questions, such as the "What is half of 8?" riddle that McCullough opened with (Hint: it's not simply "4" and I'm not going to link to any answers online, because that would fly in the face of McCullough's point).
"Learning needs to be something they enjoy," like rooting for the home team or watching birds in nature, he said.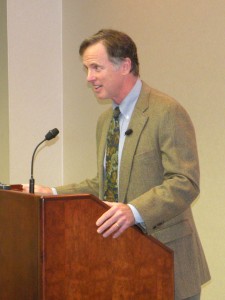 McCullough, who at the age of 55 says he's old enough to be grumpy,  doesn't apologize for his disdain for a lot of modern technology.  Many in education think "new is always better" when it comes to the latest educational technology such as smart boards, tablets, etc., he says. The time kids save using computers on their papers doesn't get used on more learning, he suggests, just more video game or social media time. His belief is that old-fashioned learning practices are worth reviving where possible. The action of putting ink or pencil to paper strengthens cognition and improves concentration, for example, by requiring the student to outline their thoughts and rewrite until they're satisfied. He remembers falling asleep to his historian/author dad, David McCullough, typing his first book.
One highlight of the evening was McCullough's sharing of stories during a Q&A session about his "jarring" ride to international fame since delivering his commencement speech in 2012. He says he almost forgot he had even agreed to give that speech, and put much of it together in his head while driving his daughter to a soccer event a little more than a week before graduation day. When asked for a copy of the speech by a woman who rushed up to him afterward, McCullough gave her the one he brought that day (a collector's item!).
The emails to him about the 12-and-a-half minute speech started piling up on the Monday morning after the Friday on which he delivered it, and the next thing you know he was off getting wined and dined by agents and publishers in NYC and doing TV interviews all over the place. He described one interview location — cinder blocks, litter, stray cats setting the scene — as looking like a place you'd take someone to murder him. He described another situation where a limo showed up for his house that turned out to be sent there by a flunky for the Chelsea Lately talk show who hadn't realized that the show decided not to have McCullough on after all.  He recalled another interview where he couldn't take his eyes off the orange make-up coating the face of the Ted Baxter-lookalike grilling him,  and another where he sat in front of a phony Boston skyline, listening to an erectile dysfunction ad while staring into a sign that read "Look Here." I had figured McCullough would be familiar with the TV interview scene given the high profile of his father, but I guess not.
Fame also popped up in odd places. McCullough said a guy giving him the I-think-I-know-you look at a Fenway Park hotdog line finally blurted out: "Hey, Speech Guy!" (McCullough said this will probably end up being his obit headline, but I've now beaten the obit writers to it.)
In the Wellesley community, I've heard McCullough referred to as "a Rock Star," and plenty of his fan-moms and fan-dads were on hand at the library Thursday, forcing him to respond with variations on "aw, shucks." McCullough says his colleagues have been supportive of his new endeavors and denies getting any particularly special treatment. But he does say that Wellesley High is a great place to learn and teach: "It's a gem of a school."