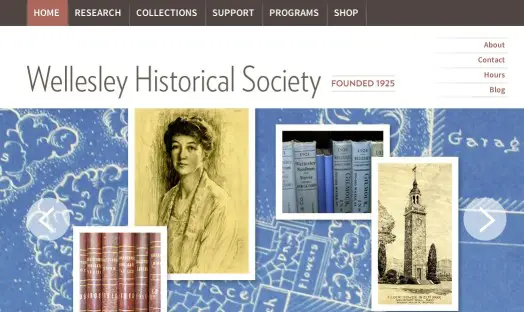 The Wellesley Historical Society has overhauled its website, giving a much fresher look to its online presence, which now exposes a lot more of what the organization has to offer.
We found the site design clean, colorful and easy to navigate. It does a good job of showing off what the society has to offer, including home/family research resources, old photographs and maps, and current educational opportunities such as lectures and walks.
The website change is part of a broader effort to boost the group's profile and reach out to all members of the community, young and old. The centerpiece of this effort is moving the society's HQ from the Dadmun-McNamara House (which will continue to be home to the Tollhouse Shop, where you can donate or buy gently used items and antiques) to the Stanwood House at 323 Washington St., which boasts three times as much space in which to exhibit everything from maps to photos to insect collections.
For historical perspective, here's a look at the old website homepage:
RELATED: Wellesley Historical Society shows off some gems