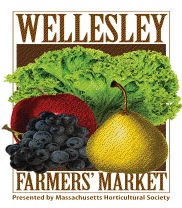 As we reported a couple weeks back, the Wellesley Farmers' Market won't be happening this spring. Various parties associated with the market (Whole Foods, the market manager, Sustainable Wellesley, etc.) didn't respond to our inquiries at the time (only MassHort did), but now a formal statement has been issued on the market's status that confirms what we wrote about.
Indeed, there will be no market this spring. However, the market's backers are plotting a comeback, perhaps as soon as the Fall:
"The Market's mission is to support local food growers and producers; celebrate seasonal, local, sustainably grown foods; serve the community; lead the local food movement; and join Wellesley's sustainability movement. The lead volunteers are still committed to this and are thus looking at new location options and sponsors to bring the market back in the Fall or following season."
The market operated in the Whole Foods parking lot for the past 2 years.
You can follow the Market's plans on its Facebook page.