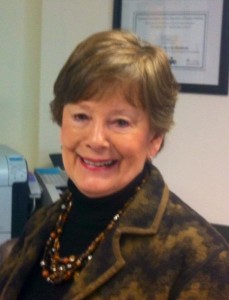 Dr. Gretchen Bravacos, director of PAWS (Preschool at Wellesley Schools) and a 45-year-veteran of the Wellesley Public School system, will be honored on June 20 at a retirement party at Wellesley Country Club from 5-8pm (more info here).
In announcing the Bravacos retirement, Wellesley Schools Superintendent David Lussier said: "Gretchen has built an incredible legacy and touched the lives of countless students. Spend any time with Gretchen at PAWS and you will leave with a deeper understanding of the role that high quality Pre-K plays in laying a foundation for our students' future success."
Bravacos came to the Boston area from Ohio in the fall of 1968 with plans to attend graduate school full time, but she decided to teach 1st graders at Fiske School instead and wound up never leaving the Wellesley school system until now. Her career has spanned the closing and opening of schools, including the Brown and Phillips Schools, and the shifting of 6th grade from elementary to middle school. There were 12 elementary schools in town when she started teaching here.
Bravacos went on to become the Department Head for Preschool, Elementary Special Education and Title 1, and served as the liaison and case manager for all the cases of students whose needs could not be met within the Wellesley Public Schools. It was during this time period that Bravacos developed WINGS, The Integrated Academic and Enrichment Summer Program that continues today. In 2002, she chose to give up her elementary responsibilities and to become Director of Preschool Services. It was an exciting milestone in her career when Bravacos and her staff moved into their new specifically designed preschool building at 63 Hastings St. in February 2006.
While teaching philosophies have changed over the years, Bravacos believes that one of the most important changes has been in the understanding of how children learn and the recognition of the importance of task analysis, data collection, and targeted skill instruction particularly for children who learn differently.
As for what's next, Bravacos wants to keeping her options open. One thing she will continue to do is to advocate for children and their families through her non-profit work on the Board of Directors for Communities United, the agency that runs Head Start and Preschool classes serving 10 towns including Wellesley.