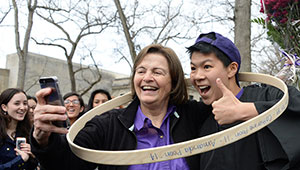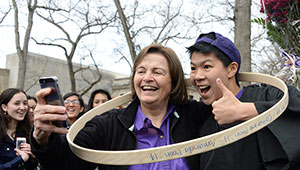 The MetroWest Daily News swung into town to cover Wellesley College's hooprolling race for graduating seniors on Saturday. Always a good photo opp, from the students who sleep out over night to get the best spot on the starting line to the winner (in this case, McLean, Va.'s Alex Poon, a computer science major) being given a bouquet and thrown into Lake Waban at the end. Interestingly, Poon's mom Helen won the race back in 1982 and Alex used a hoop used by other family members in the past.
More here on this year's event from Wellesley College media relations.
Students also commemorated the event via social media sites such as Instagram.