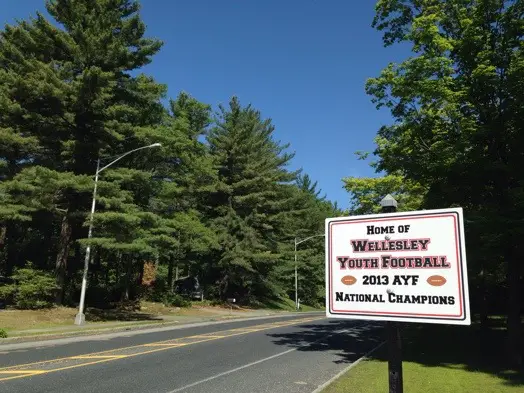 The 2013 American Youth Football national champs from Wellesley had their day on the field, at Wellesley High, at the state house and at the veterans' parade. The Junior Raiders, who won the championship as fifth graders, now have 3 road signs — at the town lines separating Wellesley from Natick, Needham and Newton —  that mark the team's achievement more permanently.
The Board of Selectmen approved the signs, American Youth Football paid for them. Bill Morris of Wellesley Youth Football says "My understanding is they stay up indefinitely or until we win the next National Championship and update them."
Surrounding towns also have such sports signs along their roads. These include a Natick 2007 Wellesley High championship volleyball team sign and Needham's signs for Olympic gymnast Aly Raisman.
RELATED: Wellesley Youth Football site
Sign at Natick/Wellesley line on Rte. 135