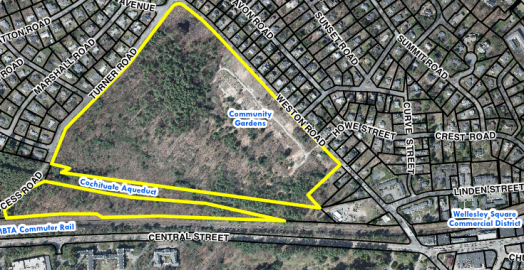 That 46-acre tract of land along Rte. 135 and Weston Road that Wellesley College is looking to sell now has blog dedicated to it called North 40 Wellesley Project.
The land has raised great interest locally, with the town creating a committee designed to explore possible uses for it. Some see purchasing the land as a great opportunity for the town to take control of a central piece of property, whereas others are concerned Wellesley is already spending too much on properties such as 494 Washington St. (part of a proposed senior center location) and St. James the Great's Rte. 9 land.
Maria Vijil Davis, an attorney who lives in the Woodland Neighborhood, says she launched the North 40 website "for the purpose of disseminating accurate and current information in the development of the North 40 Project."
The site includes links to news stories, maps, and information supplied by the town and college. (Here's a link to the Town of Wellesley page on the North 40.)
Vijil Davis says her interest in the land's future is as a neighbor and Wellesley resident, not of a personal business nature. She has given her name as a possible neighborhood rep for the North 40 committee (update: Vijil Davis has been invited to be on the steering committee).
UPDATE: 6/4/14 — North 40 fans have also created a Facebook group and a Twitter account to share info.