For some people, other towns simply won't do.  Wellesley's bustling town center, excellent schools, and informative blog make the town a must-have for newcomers seeking their dream home and growing families who don't want to leave.  And lots of these folks demand new construction.  In a built-out community such as Wellesley, however, there's typically only one way  to  make those new-construction dreams a reality, and that's by tearing down old houses to make way for the new.
Recently, there's been some rabble-rousing over such rubble making.  In the wake of multiple tear downs in the Winslow Road area near Longfellow Pond/MassBay Community College, neighbors there are in the process of forming a Neighborhood Conservation District.  The goal of such a district, according to Town Bylaw 46A, is "to recognize that the Town of Wellesley contains unique and distinctive neighborhoods and areas which contribute significantly to the overall character and identity of the town which are worthy of preservation and protection… Under this Bylaw, the Buildings and characteristics of a neighborhood are not intended to be frozen in time by an NCD designation.  Neighborhoods will be able to grow and change to meet the needs of current and future owners, while conserving the neighborhood's distinctive qualities."
So a Neighborhood Conservation District isn't the same as an historic district which, according to the Wellesley Historical Commission mission statement, largely concerns itself with "the preservation and protection of tangible evidence in the architectural, aesthetic, cultural, economic, political and social history of Wellesley."  The town's Historic District Commission  enforces rules about the renovation and restoration of homes in the town's designated historic neighborhoods such as Cottage Street.
Importantly, homeowners can opt out of a neighborhood conservation district, as several residents on Denton Road chose to do when that street became a Neighborhood Conservation District several years back. But you can't opt out of an historic district.
A Wellelsey resident sent us a few before, during and after shots of 14 Winslow Rd. and 15 Dudley Rd., back-to-back homes that have been torn down recently: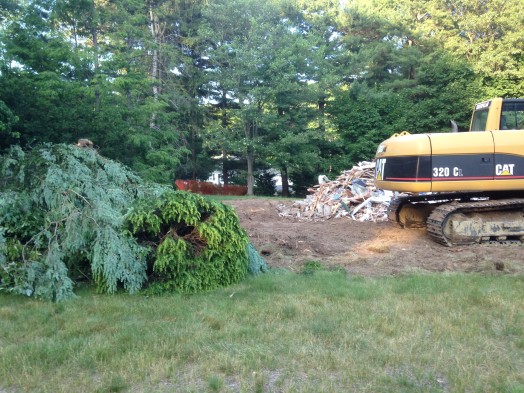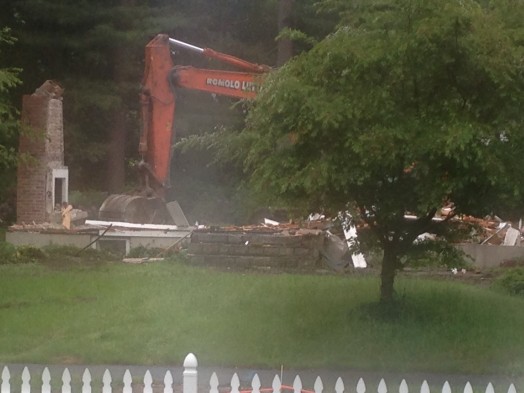 RELATED: (From Newton's Village 14 blog)
Teardown moratorium was big topic at last night's Zoning & Planning meeting