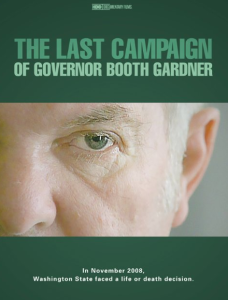 Unitarian Universalist Society of Wellesley (309 Washington St., Wellesley, Mass.) is hosting a showing of the 2009 Oscar-nominated short documentary The Last Campaign of Governor Booth Gardner as well as a discussion of the Death with Dignity debate.
In 1994, a year after serving two terms as one of Washington State's most popular governors, Gardner was diagnosed with Parkinson's disease. In 2008, with his health continuing to deteriorate, he returned to the political spotlight as the driving force behind a ballot initiative that would legalize one's choice to die. The film tracks Gardner and his supporters in their efforts to pass Initiative 1000 (I-1000) in Washington State, also known as the Death with Dignity Act, and follows the debates the campaign provokes along with the toll it takes on Gardner's health.
The film runs about 40 minutes. Marie Manis of Compassion & Choices will lead a discussion after the film and also talk about the campaign to pass a similar initiative here in Massachusetts. Compassion & Choices is the nation's oldest and largest nonprofit organization working to improve care and expand choice at the end of life.
Free and open to public.