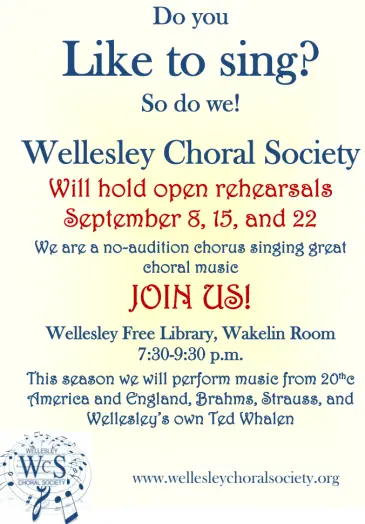 Wellesley Choral Society is beginning its 68th season and is looking for new voices. Open Rehearsals where interested singers can get to know the group take place on Monday, Sept 8, 15, and 22 in the Wakelin Room at the Wellesley Free Library, 530 Washington St., Wellesley (please use parking lot entrance).
There are openings for all voice parts and singers of high school age and older are welcome. Auditions are not required. Present membership comes from Wellesley and many other Metrowest communities. The Society rehearses on Monday evenings at the Wellesley Free Library and presents three concerts per season at different venues in Wellesley, as well as one or two fundraiser events. Two professional musicians head up the group. Edward Whalen is Music Director and Hisako Hiratsuka is accompanist.
In the 2014 – 2015 season we will sing contemporary vocal music from America and England in the Fall Concert (Barber, Beach, Carter, Ireland, Britten, Elgar and others), songs for dancing in the Winter Cabaret and for the Spring Concert choral music by Wellesley composer and WCS Music Director, Edward Whalen.