The Wellesley Natural Resources Commission has appointed Brandon Schmitt as its new director, a job that includes stewardship of the town's park, conservation, recreation and open space system.
He joins the NRC at a busy time, as the Fuller Brook Park restoration and improvement project really gets going. The commission recently reorganized, with former director Janet Hartke Bowser taking on a new role as Natural Resources Specialist.
A quick look at Schmitt's background reveals that he knows a thing or two about the great outdoors. He was previously a park ranger in Brookline, where he also managed a "green dog" program that involves charging a fee to dog owners who want off-leash privileges for their pets in certain parks during specific hours.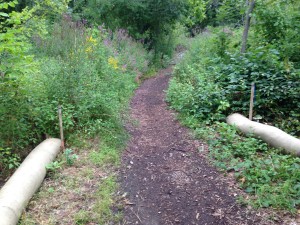 Before that, Schmitt was a senior forester with the New York City Division of Forestry and Horticulture, where he was instrumental in the Million Trees Program. Schmitt has diverse field experience, and is familiar with wetlands biology and regulations. He is also a certified arborist and playground inspector. He has been a crew supervisor for Habitat for Humanity both in the States and in Belfast, Ireland, and has volunteered with various animal welfare organizations.
Schmitt's educational background includes two advanced degrees from the School of Public and Environmental Affairs, Indiana University at Bloomington: a Masters of Science in Environmental Sciences (Concentration: Ecosystem Analysis and Management); and a Masters of Public Affairs ( Concentration: Public Policy Analysis). Schmitt did his undergraduate work in political science and environmental studies at Wittenberg University, Springfield, OH.
NRC Chair Heidi Kost-Gross says: "Of all applying candidates, Brandon's impressive environmental education, technical skills and boots-on-the-ground experiences, particularly in the NYC parks system, make him especially suited for the role of NRC Director. In Wellesley, the role of Director requires hands-on abilities and a thorough understanding of natural eco systems."
Not to mention, Schmitt has gotten after those dastardly Canada Geese with the Goosinator!