The Wellesley Hills Junior Women's Club's annual Wellesley Marketplace event that took place Saturday at the Wellesley Middle School drew over 2,000 shoppers and 150+ exhibitors. I'm not shy about shopping so I jumped right into the fray, on a quest for unique gifts and whatever else might jump out at me. Here's what I came away with (spoiler alert, if you are attending any of the same Yankee Swaps as me this holiday season):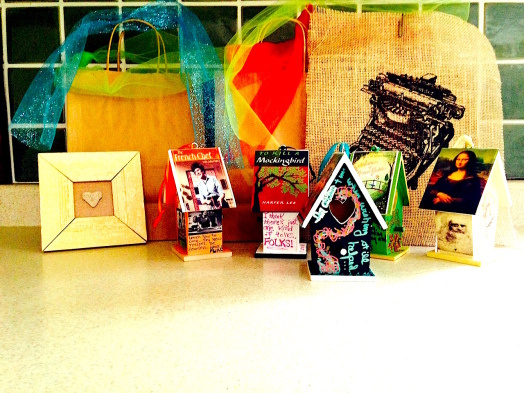 So what we have in the above picture are 5 birdhouse tree ornaments, each with a literary or artsy theme, from designer Anne Boucher of The Guilded Word. They were $12 each and she cellophane and beribboned them for me. And then I undid all that for this picture and so must later redo it all.
The heart rock in the frame is for me, since I am always head-down at the beach searching for heart rocks, yet never thought to take it to the next level as Patricia Flynn from Natural Heart Stones has. It was $20 for this cute little stone from Israel in a frame made of  wood repurposed from an old house (not from a Wellesley tear-down, I'm assuming, but I should have asked).
I finished up my shopping with the old-timey typewriter image printed on burlap by Fiber and Water out of Maine.  A certain blogger I know used to type up college papers on a similar relic. I can still hear the tap-tap-tapping.
There's that ubiquitous turkey, drum-legging up support for the Turkey Trot.
The Marketplace would be noplace without the women in green.
The Marketplace is open at the Wellesley Middle School until 4:00 pm Saturday, November 22.