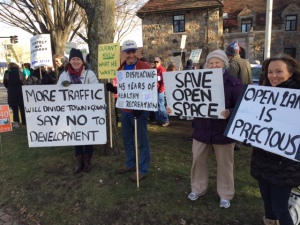 Organizers of Saturday's Save the North 40 demonstration in front of the Central Street fire station estimate 150 people stopped by during the 2-hour event to learn more about their cause: urging Wellesley College to sell its North 40 property to a conservancy that will preserve it for public use and wildlife.
A key message made by the demonstrators was that land trusts, including the local non-profit Wellesley Conservation Council, don't bid competitively to acquire land under the kind of process used by the College.
The College has narrowed down a list of bidders to 5, all of which plan some sort of housing or municipal uses for the land, and says that a portion of the land would be protected.
Friends of the North 40's Michael Tobin says organizers invited  many groups from the community that have environmental and sustainable goals in their charter.  Members of groups including the Wellesley High School Green Team, Friends of Brookside, Wellesley Conservation Council, Brookside Gardens, Weston Road Community Gardens, Sustainable Wellesley, Friends of Fuller Brook and Friends of Morses Pond.
Also, Marianne Cooley and Ben Hammond from the college Real Estate Revenue Task Force attended.
After a speech by Tobin, he presented Cooley, clerk of Wellesley's Board of Trustees, with a notebook including 1,635 petitioners names and their comments. Tobin ended his speech like this: "Today's date is 12-13-14.  Let's make 15 the year we Saved the North 40!"
Meanwhile, on Sunday, Wellesley College's Hammond announced to North 40 neighbors that:
"Recent work on site brought to our attention the discovery of asphalt in the southern portion of the North 40 land parcel. We have since tested the substance and while the results confirm that it is not hazardous, it does need to be removed. The College will be removing the substance from an isolated area within the coming weeks. During this time you may notice some activity on the North 40 as our team removes the debris.
Testing has revealed that the asphalt appears to have been on the site for 50 to 100 years. It is likely that the substance was disposed of by an unknown third party as it is not consistent with any material used for College purposes.

The removal process is set to begin on December 15 and will continue through year end; part of this process will include trucks and heavy machinery accessing the southern portion of the land by way of the aqueduct. For safety reasons, the Crosstown Trail will be closed during the period that equipment will go back and forth over the aqueduct. Further, the old landfill trail will not be accessible while trucks are on the site. We encourage neighbors to enjoy their walks in other parts of town over this time.  We are working with the town to be sure this process is handled quickly and with minimal inconvenience to you, our neighbors.

Thank you for your understanding.  If you have any questions, please contact me at vpfaadmin@wellesley.edu.

Best,

Ben Hammond

Vice President for Finance and Administration

Wellesley College

RELATED: As Wellesley College moves to sell land, critics emerge (Boston Globe)