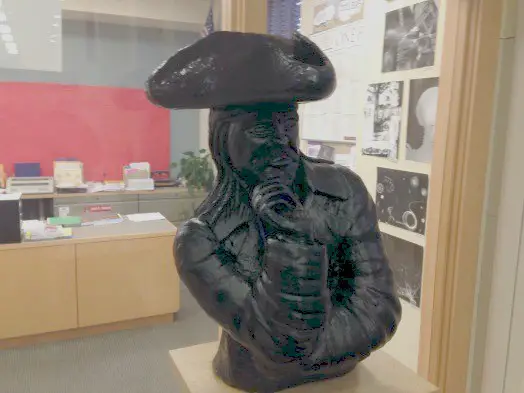 Visitors to Wellesley High School are now greeted outside the main office by an impressive sculpture of school mascot "The Raider," courtesy of 2013 graduate John Picking.
Picking made a name for himself at Wellesley High as a good athlete — he played for the baseball team and now skates for the U.S. Premier Hockey League's Junior Bruins.  But he also showed an artistic side at WHS, earning a Scholastic Art award in 2013.
Picking worked with art teacher Amie Larson as a Ceramics Intensive student and then chose to do his Senior Project working on a large scale sculpture.
Picking transformed his garage into a makeshift studio (see his Senior Project video below) and using over 225 pounds of clay, created "The Raider."  Even though this sculpture is hollow, Larson says it took four custodians plus Picking and herself to get it into the kiln safely.  Once fired, the sculpture was painted by Picking and then he and Larson brainstormed ways to display it prominently in the school.
Then-principal Andrew Keough agreed to help secure funding for a pedestal. "Two years later and with a number of repairs and bumps along to way, The Raider is finally ready to install thanks to John's hard work, patience and persistence and the funding of the Wellesley Education Foundation," Larson says.