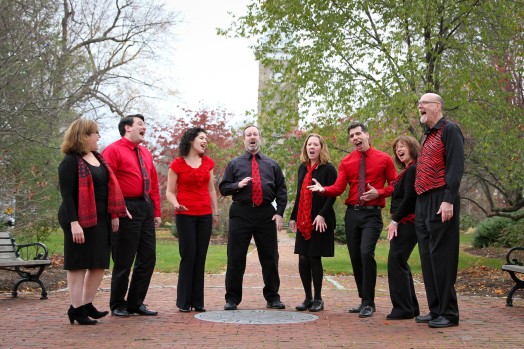 None of the Above, a Wellesley-based a cappella octet that describes itself as performing an eclectic mix of songs from "early polyphony" to folk, jazz and pop, has been selected to compete on a new WGBH TV show called Sing That Thing!
Twenty-four amateur singing groups from across southern New England – including nine high schools groups, six collegiate choirs and nine community choruses –were selected from a field of more than 50 to perform on the show.  The series, hosted by Boston Children's Chorus artistic director Anthony Trecek-King, begins taping later this month and premieres on WGBH 2 on Friday, April 17 at 8:30pm.
Preliminary round tapings for Sing That Thing! will take place on Tuesday, February 10 through Friday, February 13 at WGBH Studios in Brighton. The finale will be taped on Tuesday, May 12, 2015 in front of a studio audience. More information about the series is available at WGBH.org/SingThatThing.
None of the Above is a frequent musical guest at UU Wellesley and will be performing locally at the annual Spring Fevah! concert on May 2.