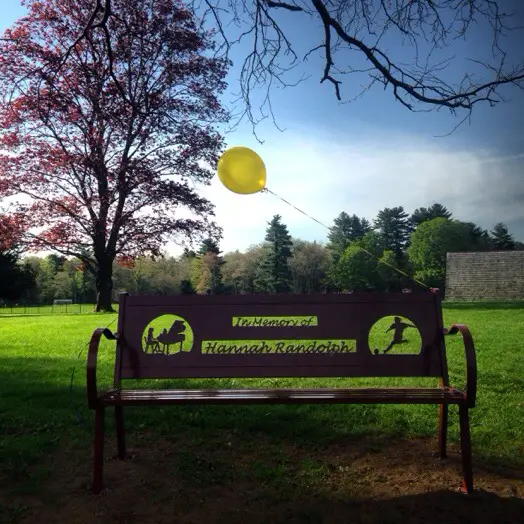 Three years ago this month Hannah Randolph, a 9th grader in Wellesley High School, died unexpectedly in a skiing accident.  She is remembered as a teenager who cared deeply about others, reached out to peers that were on the fringes of the social circles, had a quiet, warm sense of humor, and the ability to be silly, just for the fun of it.  She is remembered also for her dedication and hard work in her pursuit and love of music, athletics, and academics.  Her ultimate objective was to be the best she was capable of, while supporting her peers, whether they be friends or people she had just come to know.
The Hannah Randolph Fund was created in memory of Hannah and offers scholarships to support and encourage others to develop the qualities that Hannah exhibited in her life.  These scholarships are grants to support an activity or project selected by the recipient and approved by the Fund's Board.  The scholarships could potentially be used for clinics, camp, or summer programs in the areas of sports, academics, or music.  An award could also be used as a stipend for a student who wishes to serve as a community service volunteer, either locally or outside of Wellesley.
Once a scholarship is awarded, the recipient determines the activity or project for which they would like to use the scholarship money.  Upon approval by the Board of the Hannah Randolph Fund, the scholarship monies will be dispersed.
This year the Hannah Randolph Fund will offer two scholarships.  One is the annual scholarship awarded to a 9th grade Wellesley student.  The other scholarship will go to a student in Hannah's class of 2015.
This scholarship meant to look beyond an individual's achievements and talents in order to recognize students who exhibit the qualities that are most valuable to communities.  Those characteristics are caring, empathy, a willingness to work hard, the courage to reach out to others, and a passion for their interests in life.
You can find the application forms here. Please submit no later than Friday, March 6 to Mrs. Diane Zinck in the Wellesley High School Main Office on the first floor.