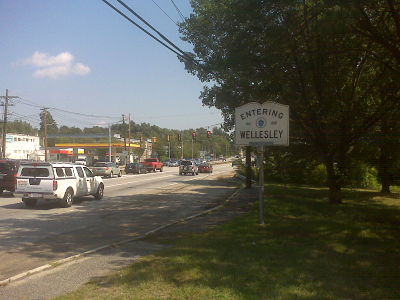 Dear Town Residents and Commercial/Business Owners:
The Planning Board is seeking 1 resident representative and 1 representative of the commercial/business community to serve on the Route 9 Enhancement Study & Plan Stakeholder Group. The Route 9 Enhancement Study & Plan is a community-outreach-driven study for the Route 9 Corridor that will provide tailored strategies for addressing the functionality and form of the roadway and corridor.
The impetus of the Study & Plan is the resurfacing project for the entire length of the Route 9 roadway within the Town, included on a list of projects being advanced by the Massachusetts Department of Transportation, with funding committed in FY18 (perhaps now extended further). With this future repaving project for Route 9 on the horizon, now is the time for the Wellesley community to establish specific goals for the roadway and corridor that will inform future improvements to be carried out by MassDOT.
The Study & Plan will be completed through a partnership of the Metropolitan Area Planning Council (MAPC), MetroWest Regional Collaborative (MWRC), and the Town of Wellesley, and it will be comprised of two phases. Phase 1 will serve as an inventory and assessment phase and will include a project kick-off meeting, an inventory and assessment of existing conditions, and the identification of issues and opportunities presented by the existing conditions of the roadway and corridor. Phase 2 (for which the Planning Board received a technical assistance grant from MAPC) is intended to develop a Plan, based on the inventory and assessment conducted under Phase 1, that identifies the Town's goals and recommendations for the roadway, addresses issues and capitalizes on opportunities.
During Phase 1, the Stakeholder Group would be tasked with attending five (5) public meetings. The Stakeholder Group would be instrumental in helping to identify the issues and opportunities facing Route 9, and ultimately in advising the project consultant and Planning Board on how strategies for improvements to the corridor could best be implemented in a final Plan.
Residents and those in the commercial/business community interested in serving on the Stakeholder Group, should submit a letter outlining their interest to the Planning Department by August 13, 2015, by email at mzehner@wellesleyma.gov or by mail to: Planning Department, Attn: Michael Zehner, Town Hall, 525 Washington Street, Wellesley, MA 02482
The Board and I greatly appreciate the public's participation in this project. Should you have any questions, please do not hesitate to contact me to discuss further.
Sincerely,
Michael D. Zehner, AICP
Planning Director