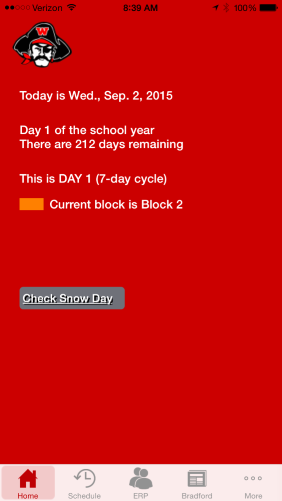 Wellesley High rising senior Matthew Preston has launched a smartphone app on behalf of The Bradford school newspaper that's designed to keep students, faculty and parents in the loop. Well, those with iPhones anyway.
The free app's features include school scheduling info, links to old and current Bradford stories, polls and more.
Preston wrote the app using Apple's Swift programming language, and worked with his dad, Roger, to perfect the polling feature. The student also had to release the app under his father's developer account due to Apple's policy of not granting those under the age of 18 to have such magical powers.
Building the app was a challenge for Preston, a versatile student who has had success as a digital artist, musician and hurdler at WHS.
"I have been working on this since about March in my spare time," Preston writes. "It took me a long time because I first had to learn the iPhone-specific programming language, but the hard part was figuring out things like how to communicate with remote data over cellular networks and aligning things on various screens."
It's the first app Preston has created, though he has dabbled with Java programming on his own and through summer programs.
For those of you with Android phones, however, don't look to Preston for a version of his WHS app anytime soon.
"I looked into Android and quickly saw that it is as different from iPhone programming as French is from Chinese," Preston says.  "My Dad warned me that this was the case, but I did not believe him until I looked into myself.  With senior year coming up, I wouldn't have time to work on an Android app."
iPhone users: You can download the app on the Apple App Store by searching for "WHSBradford".