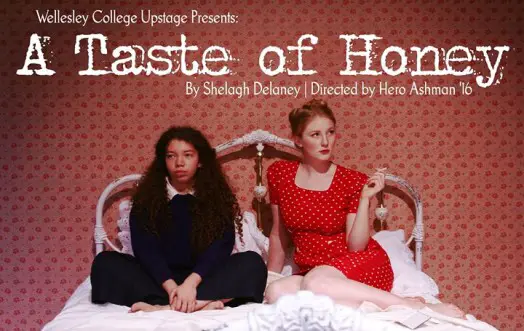 Join Wellesley College Upstage for its first production of the season, "A Taste of Honey" by Shelagh Delaney, written in 1958  when she was nineteen years old. The play is radical for its time in its portrayal of the realities of working class life, and ahead of its time in Delaney's championing of the female voice. The play revolves around Jo, a working-class teenager, who lives in a rundown flat in Manchester, a city in the north of England. Her irresponsible mother Helen flits in and out of her life, with her sleazy fiancé in tow. After Jo's black boyfriend leaves for the Navy, Jo is left pregnant and attempts to settle down to play house with Geof, a gay art student she befriends.
Delaney takes the ordinary and disadvantaged northern and working-class lives of Helen and Jo and makes them extraordinary by placing them at center stage of the drama. Reserve tickets here.
Performances:
Thursday October 22, 7:00pm*
Friday October 23, 7:00pm
Saturday October 24, 2:00pm & 7:00pm
Sunday October 25, 2:00pm
*Please join us after the Thursday performance for an opening night reception outside the theatre.
Location: Ruth Nagel Jones Theatre, first floor of Alumnae Hall (106 Central St., Wellesley, MA)
FREE for Wellesley, Olin, Babson, and MIT students and Wellesley faculty/staff
$5 General Admission.