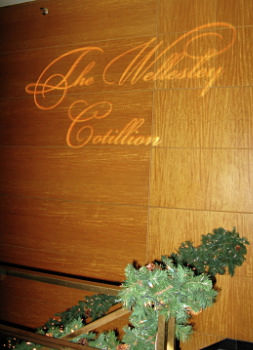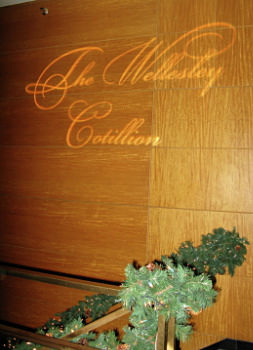 Last year at around this time, our mailman dropped a beautiful, heavy card stock invitation through our mail slot. It was a not-unexpected, graciously worded request for the presence of our eldest child (a junior at the time) at Cotillion, a formal dance for Wellesley's juniors and seniors, and a tradition since the 1940s.
This year, as our mail remained as dull as ever, no fancy invitation in sight, I admit, we were starting to sweat it. Typically the invites come out in mid-November and the dance is held mid-December at some beautiful Boston ballroom large enough to accommodate the 800 or so attendees. Plus, usually we've heard from the chairs long before now about how excited they are about the venue, and the planning, and the fun that shall be had by all
We needn't have gotten ourselves into a twist. The good news that Cotillion is on has been passed along by email this year (invitations via US Postal Service to follow). Yes, it's true, students, so start planning your Cotillion asks and fretting over your dresses and tuxes, the tradition will carry on this year on Saturday, January 9 at the Dorothy Quincy Suite in Back Bay, 7:30-10:30pm.
The email, sent by co-chairs Cynthia Westerman and Gina Francis, goes on to say, "This year, tickets to Cotillion will include luxury bus service from Wellesley High School (WHS) to the Boston event, as well as the return trip back to WHS.  All attendees must use this mandatory bus transportation in both directions.  The event is organized and executed solely by parent-volunteers and is not affiliated in any way with the Wellesley Public Schools. We are simply using the school property as the only venue large enough in town from which to launch and return 800 people (maximum capacity at the Back Bay venue).
Invitations will be mailed by Thanksgiving, via US Mail, to all 11th and 12th graders residing in Wellesley or attending WHS.  Students must then purchase their Cotillion ticket on-line by December 9, 2015. To complete the ticket purchase on-line, every student must provide complete contact details, credit card payment, and include the name and telephone number of a guardian who can be reached, if necessary, during the event on January 9th. The Committee is still finalizing budget details and hopes the cost per ticket will be about $100, inclusive of the bus transportation.  Financial assistance will be available.
Many parents have already stepped up to lead committees, but we are still in need of many more volunteers to make this event a success. We ask parents to please go to the website http://wellesleycotillion.weebly.com/ to sign up to help either with planning the event or at it on January 9th.
Together, we can make this a memorable Wellesley Cotillion that can be celebrated for another 75 years!"
Other fun things on the calendar:
There's still time to register for the Wellesley Turkey Trot
Fenway Park Football Classic, tickets available