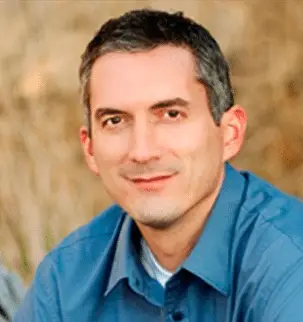 Mark your calendar book lovers: Award-winning author James Dashner is coming to The Rivers School in Weston, sponsored by Wellesley Books. The best-selling author of the Maze Runner series will be there to share The Game of Lives, the final book of his new cyber-adventure trilogy in The Mortality Doctrine series.
I recently spoke to Dashner who, when he isn't spending all his time on The New York Times children's series best seller list (Maze Runner has been camped out there for over 160 weeks), lives in Utah with his wife and two sons. Dashner may be a life-long self-described geek who is in awe of Stephen King and who loves the TV series The Walking Dead. And true, my literary tastes bend more toward Geraldine Brooks, and I do rather prefer Downton Abbey on my telly. Still, somehow the geeky author and this Swellesley Report blogger had no trouble forging a meeting of the minds as we chatted about his latest book and his work in general.
Dashner is officially on tour to promote Game of Lives, out on Tuesday, Nov. 17. Inspired by the 1999 science fiction action film The Matrix as well as the heist thriller Inception, he says the book "deals with psychological issues as well as the concept of a dream within a dream within a dream" through a very plot-driven literary experience. In true Dashner style, his characters are as psychologically complex as his story line, with plenty of good, bad, loyalty, evil, steadfastness, and treachery mixed up in all of them, just to keep it all real. The plot revolves around Michael, gamer and hacker extraodinaire, whom the government wants to tap for a special project. If Michael agrees, he'd better choose his friends and helpers carefully because if they don't all come through in a big way, it looks like nothing less than worldwide cyber domination will be the outcome. Those are some important ifs, so look out, Michael, your writer hasn't exactly made this easy for you.  Can't say if this one will be optioned for film, but it wouldn't surprise anyone if that came to be.
MORE BOOKISHNESS: Sir Salman Rushdie graces Wellesley stage
Dashner has always loved popular culture, with a special place in his heart for Star Wars, and indeed, his tickets are already in hand for the The Force Awakens, out Dec. 18. He was a Storm Trooper for Halloween, while one of his four kids was Kylo Ren, and the another was a Jedi. He's that kind of guy, and it obviously works for him. The Stephen King fan has of course read King's latest book, Bazaar of Bad Dreams, a collection of short stories. Although he's never met the master, he has heard through reliable sources that "Stephen King's grandkids have read my books," so there's that. Breaking news here, he's also seen every episode of The Walking Dead. 
Dashner says that growing up, he was always writing stories and reading voraciously. Writing was certainly in his heart, but reality, if not his dreams, called him over to the practical side. "I always wanted to be a writer, but I studied accounting, of all things" while at Brigham Young University. It was his backup plan, and indeed, accounting had his back for seven years until finally, he crunched the numbers and realized that could go over to the creative side and become a full-time writer. Doesn't miss accounting a bit. Go figure.
While in college, Dashner says that beyond the basic requirements of an art history course and some required English Department classes here and there, he didn't take a single writing course. But that didn't stop him from writing.  He wrote his first book in his spare time. A small publisher took him on, and his book The Door in the Woods (The Jimmy Fincher Saga), the first in a four-part series, hit the shelves right around the time he graduated. New fans, hungry for more after they plow through his most popular work, keep it in print.
Throughout his own personal life series, Dashner says that "Reading was my education, and was what helped me develop as a story teller."
As for what comes next, Dashner has been working on a prequel to the Maze Runner series, titled The Fever Code. Due out in late 2016, he just got his first draft in to his publisher. I mentioned that his fans are absolutely obsessed with the idea of how the Gladers ended up in that elevator in the first place, their memories wiped of all but their names.  "I know, I know," he laughed, promising that all would be revealed.
I had questions too: had Dashner known all along how that happened or is it something he had to create on the back end of the series? Turns out all that previous accountant experience wasn't for nothing. The man has been accountable to his characters from start to finish and, he assures me, he feels just as accountable to his readers. All the characters will have their backstories revealed, stories that he put together in painstaking detail on a time line before he even started the writing part of the series.
From there, by using the magic literary device of prequel, the many quirks and traits of the characters will become better understood as their pasts are revealed, and all those who have been killed off get to come back to life. Look for the theme that questions whether the ends justify the means to run through this book, as it does through all his work. Nothing in his books is ever black and white, leaving the reader to consider that perhaps the darkest events needed to unfold as they did.
Dashner says that readers sometimes get upset about changes between the books and the movies. The best advice he has for his fans about that is that the books themselves will always remain the same. "The best thing readers can do is embrace the books for what they are, and embrace the movies for the different experience they bring to the stories and to remember that the books will always be there for them."
Order tickets through Wellesley Books to see James Dashner Tuesday, December 1, 7pm at:
The Rivers School
333 Winter St, Weston, MA 02493
This event is ticketed. There are TWO options.
Option 1: Ticket cost $22 and includes ONE copy of the book and admittance for ONE person.
Option 2: Ticket cost $32 and includes ONE copy of the book and admittance for TWO people.